Every year I try to make some handmade gifts.  Often, I try to make a lot.  Often, I manage a few.  Sometimes, they turn out.  Sometimes, not so much.  This year, I have so many fabulous ideas, that I thought I'd share a few of them here.  Most of these fabulous ideas have come from other, fabulous, people.  So, here's my shout-out to the inspirations that will be helping me combat consumerism – or at least lessen its impact (and ours) this Christmas.  Enjoy!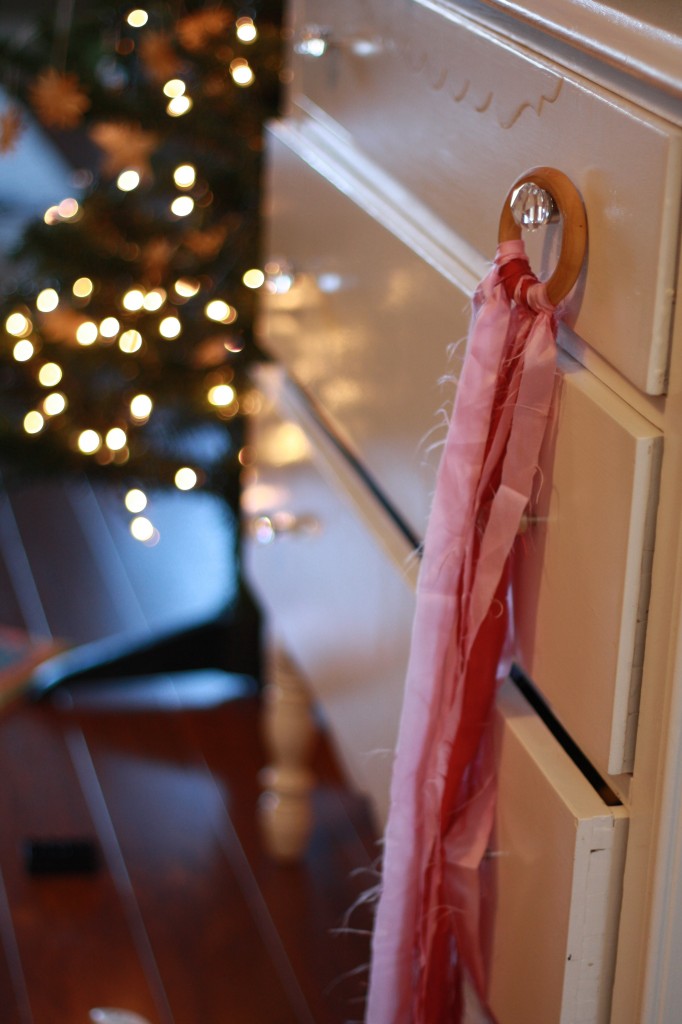 1. Hand-dyed playsilks.
I already had a problem with beautiful paper.  I am drawn to it.  The colours, the textures, the stunning variations.  I now, however, have to admit to a growing fascination with fabric.  The beauty of a piece of hand-dyed fabric has drawn me in.  And, the idea of natural fabrics decorating my home has captured my imagination.  So, this year, I am determined to indulge.  It's for the kids, right?
When I found this post over at Bending Birches, I nearly jumped.  It was exactly what I had been looking for.  Step-by-step instructions, coupled with beautiful inspiration.  Could my home and my silks look like that?  We'll find out.  The only question remains – do I try and do it myself on the sly?  Or, do I give the kids white play silks, and have us do it together as a project after Christmas?  (You see how I may have gotten out of one 1/6 of my handmade work already!)
2. Play Capes.
To continue with the fabric theme, I ordered the fabulous book, Growing Up Sew Liberated by Meg McElwee.  Visit her over at Sew Liberated, and you'll find a creative, Montessori-inspired Mom with amazing ideas.  The book is full of inspiring patterns for sewing projects that incorporate a love of the outdoors, and an appreciation for creative play.  I am going to embark on the adventure of sewing play capes for the kids.  Although she suggests satin (which would be stunning!), I managed to find a stately purple velvet, and a hardy grey suit fabric at the thrift store this week.
Also inspired by Kristin at Gypsy Junk, I can hardly wait to give them to my kids (if I can manage to make them look half as stunning as theirs).
3. Wands or ribbon rings.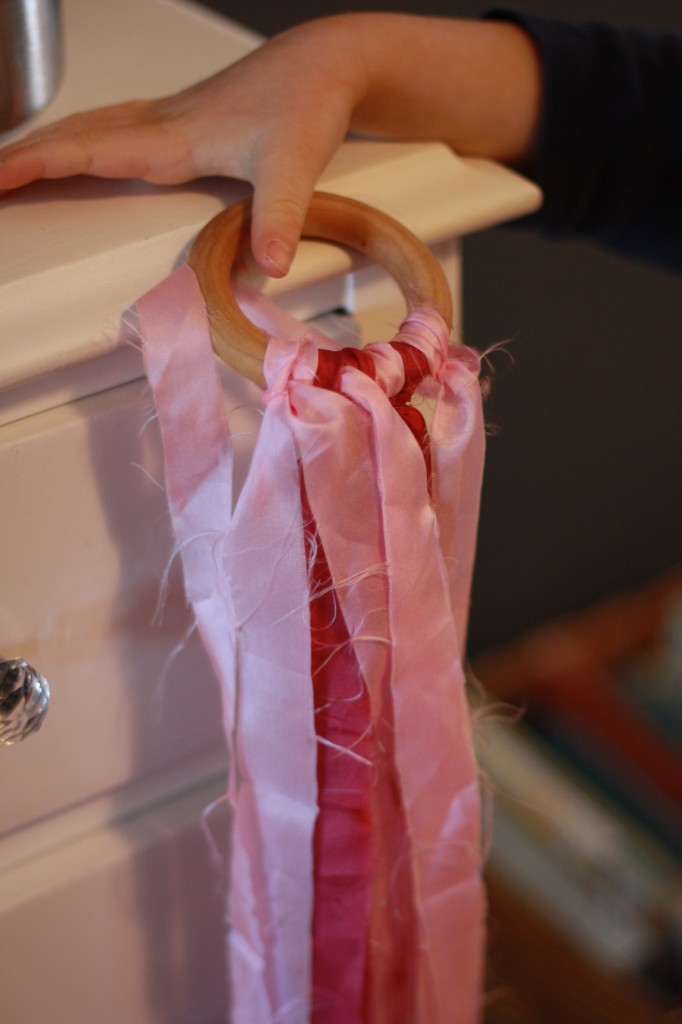 I've been thinking about wands for awhile now.  Ever since my friend Carla made a ribbon ring for my darling Sylvie.  It was so beautiful.  And dead simple.
I have two options.  One, tying ribbons around a lovely wooden teething ring (as Carla did).  Or, two, adding a star or ribbon to a piece of wooden dowling.
There are so many easy tutorials out there, but I stumbled upon this one at Happy Whimsical Hearts the other day through Friday's Nature Table over at The Magic Onions (if you haven't already, you must check it out!).  I love it because it's easy, and doable.  And the bell is a nice touch.  Plus, the post is written by another Kelly, so it must be good, right?
I'm quite sure my son will love having a wand with a tinkling bell.  In fact, I am thinking that we will make these together as presents for his cousins and his sister.  Another way to keep ourselves busy, and my after-bedtime craft mania to a minimum.
4. Sandpaper Letters
Okay, so these are a bit educational for Christmas, but my son has been asking for them.  Again, he wants to help me make them.  So far, I have purchased sandpaper, and thought I had figured out what wood I was going to use… when I stumbled across this post at Frugal Family Fun Blog.  Felt "sandpaper" letters, for under $10?  And it looks like such an easy, fun project.  What a great idea for a gift from one kid to another.
So, Dylan might be getting a bag of wooden disks and felt letters for Christmas.  Or, a painstaking, yet satisfying cut and paste project from his mama.  Time shall tell.
5. Reading Tent
As you may recall from my previous post on the topic, I'm a bit in love with this idea.  It appeals to the librarian in me.  And the child, who still loves to find that special, cozy place to curl up with a book.  And, of course, there's the fabric thing again…
The best post I have found on the topic, is, perhaps, this one, which links to a myriad of options.  However, if you want to see one a little closer to home, please check out member Nicole of Once a Small Seed's recent post on the beautiful tent she made for her daughter's 4th birthday.  Dylan's 4th birthday just happens to be on December 29th.  So, I'm thinking, maybe it's destined to be.
6. Growth Chart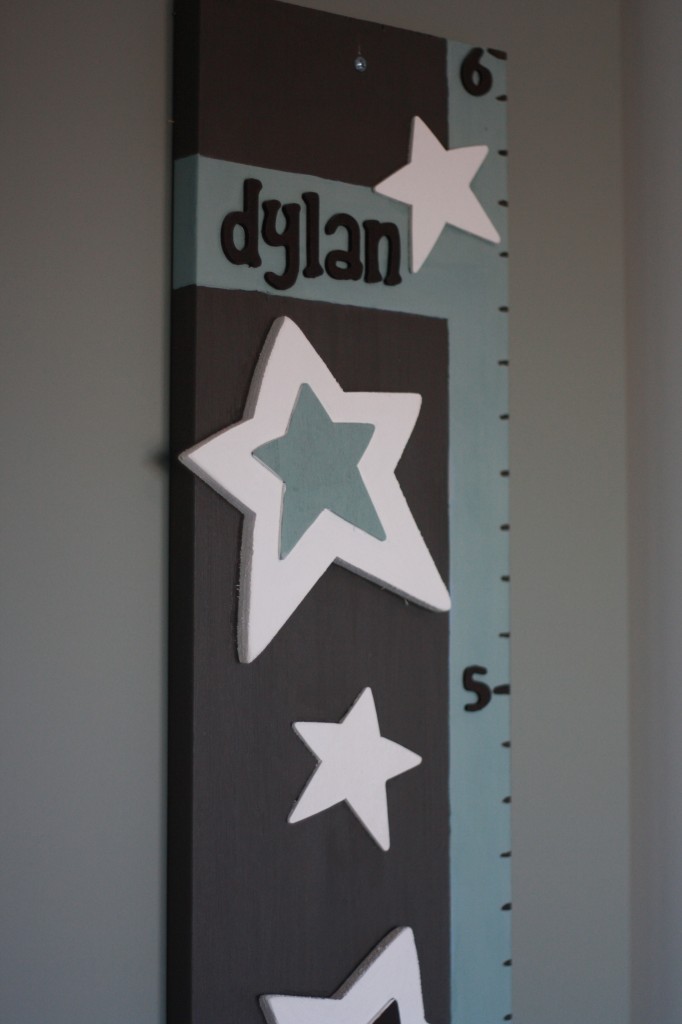 A year or so ago, I made a growth chart for my son, Dylan.  It was simple, but I was happy with it.  So, this year, I am making one for Sylvie (as she is now standing up and walking around!).  I'll be attaching wooden birds to hers, and maybe a tree silhouette.  I'll let you know when I finish it, but suffice it to say, it's easy.  A few wooden shapes, a few paint brushes, and one piece of wood.  Easy and heartfelt, and (hopefully) beautiful.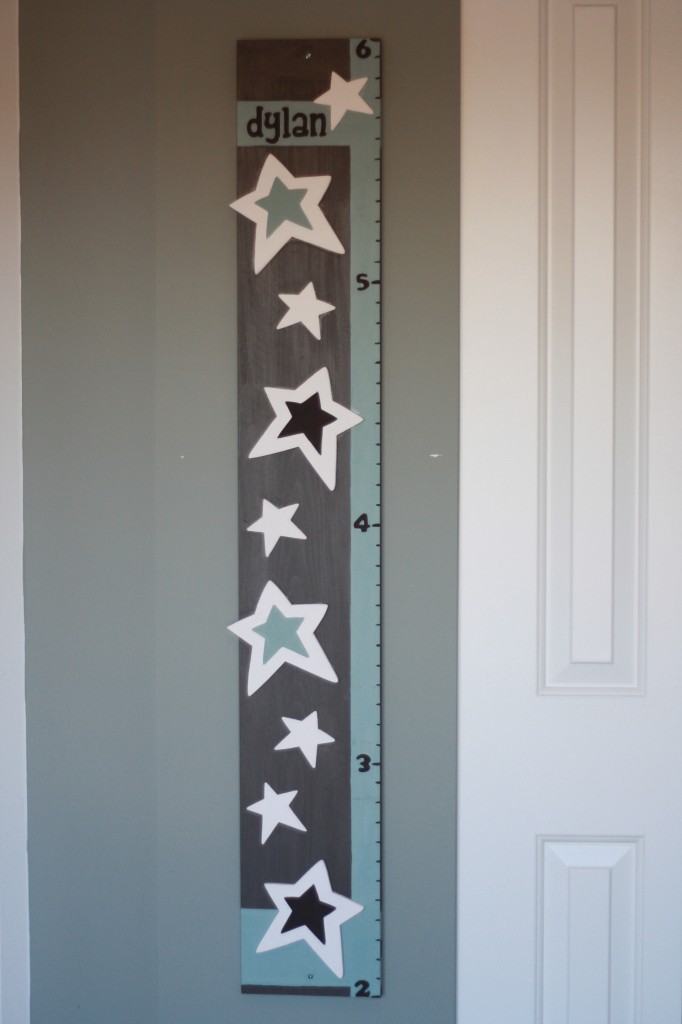 Oh my, do I have to get to work!  Still, I always love ideas – so please share them, and I'll be sure to Pin them for later!  (Yes, I am thankful for Pinterest).
Happy Creating!
We're linking with Natural Suburbia for Creative Friday
Ordinary Life Magic for Saturday's Artist
Enjoy!