At some point during my childhood, I became entranced with the idea of a reading space.  A magical corner of my home, in which to read to my heart's content.  My best friend had a reading nook: the roof of her house!  There was a little ledge just outside her window, where she would sit in the sunshine and become absorbed in her stories.  I should point out here that her mother was not overly pleased with her chosen nook, being somewhat on the dangerous side.  Regardless, something about her spot captured my imagination.
Ever since, I have dreamed of a bay window in my home, or a cozy window seat.  When given the chance, we created one in our home.  We call it the "cozy corner," and many happy moments have been spent reading together here.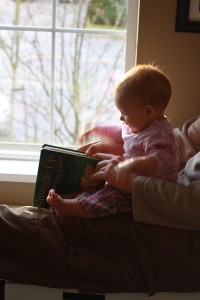 My other dreams for a reading nook, include a garden bench (surrounded by hedges, a la The Secret Garden), and a converted attic (beams exposed, and sunlight streaming through the dust).
A few weeks ago, I discovered this magical reading nook at Belle Squeaks, and fell in love.
A reading tent!  What a fabulous idea!  Want to do it yourself?  Check out these step-by-step instructions from ana-white.com.  I salivate.  Unfortunately, this reading nook's footprint is 6 feet wide. Which is a little too big for our children's rooms.  However, with a few alterations, I'm sure the idea could stand.  A tent over my son's bed, perhaps?  Or maybe a giant tent in our living room?
There is something entirely magical about a reading nook.  Whether it be a special place at home, or a secret corner of your library.  Maybe a bench in a nearby park.  Or a tree fort in your backyard.  As homeschoolers, I believe we try to instill the power of knowledge, and the magic of learning in our children.
Creating a special place for our children to read for pleasure lets them know that reading is special.  It's sacred.  It's enjoyable, and should be treasured.
I challenge you to find that special place with your child.  Create it, or use a place already in existence.  Or notice when they find this special place themselves.  Our spaces affect our moods, and our attitudes.  Let your reading nook exude magic and wonder – and your children may find them in their reading, too!
Do you have your own reading nook?  What's your favourite place to read?