And now for another instalment in our early homeschooling series.  This week, I am extremely pleased to present an interview with my very own homeschooling sister, Sara Wiens.  Married to Robin Wiens (who writes our
Public School Perspective
 column), she's an artist, teacher, and Montessori mom.  Not living close, I don't get the opportunity to see and hear about their family's everyday learning, so this interview is a special treat for me.  Enjoy her ideas, and unique perspective on using Montessori to work with a child with special needs.
1. Tell us a bit about your family
We are Robin, Sara, Ronan age 3.5 and Ilse 15 months. Robin and I are both public school teachers. Robin, a P.E. Specialist who loves playing and coaching sport of all kinds. For the past year he has also been working as a high school counsellor. I love art in any shape or form and particularly love painting which I spend some time at between being home with our kids.
2. Have you always known you wanted to homeschool? / What made you decide to forgo preschool?
Robin recently read some John Taylor Gatto and is quite convinced that unschooling is the way to allow children to achieve their potential while being intrinsically motivated. I never really thought about homeschooling so much as wanting to maximize time with my son. He has a form of cerebral palsy called hemiplegia that requires daily therapy which I can easily incorporate into our homeschooling activities. Having a schooling agenda keeps me accountable to do therapy and keeps Ronan motivated in the activities which are all interesting for a preschooler.
I know Ronan wouldn't get such personal attention in any preschool and extra work on motor skills could mean a big difference for his future. How could I not choose this for my child?
3. What is your favorite thing about home learning?
I spent one year back at work between my two kids and was miserable about it. We never had time together at home between my work schedule and specialist appointments for Ronan so being home together is amazing. We can spend time connecting over regular things. I get to be with my kids as they learn, grow, and reach their milestones.
4. The hardest thing?
Patience! I need to do activities very slowly for Ronan to practice with his affected arm, hand, and leg. This is hard to balance with a busy toddler as we need quiet time to focus on tasks. I naturally want to be busy with socializing, meals, etc. but I am learning to slow down the pace of life.
5. What did you do to prepare for "school" this year? Anything?
I read The Montessori Method by Maria Montessori and Teach Me To Do It Myself by Maja Pitamic, a more modern DIY take on Montessori activities. Then I made and accumulated a few materials which are housed on a shelving unit we set up in our dining area near a child size table and chairs.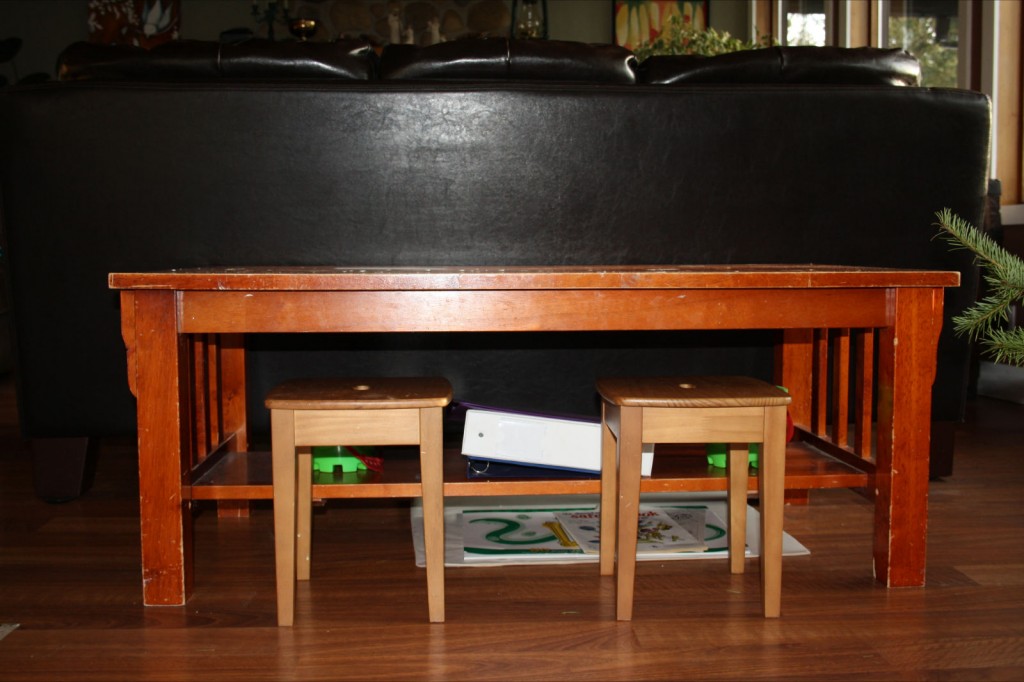 6. Does your child ever ask to go to school?
Ronan always talks about schools because both his parents work in them. Papa goes off to school everyday and even though I am home now, we often drive by the school where I worked. At dinner this evening, Ronan declared that he was going to be in grade 8. We said okay, as long as he did grade 7 first. Actually, one of Ronan's friends comes over twice a week to join us in our preschool activities so we talk about this time as school for them. That is his concept of school for now.
7. You are influenced by Montessori education principles. What does that mean to you and your family?
I started researching Montessori after being told about it by another mom who has a child with the same disability as Ronan. The focus on fine motor skills and sensory refinement fit perfectly with Ronan's special needs. Montessori was actually developed for children with special needs and underpriviledged children, even though it now has an elitist reputation.
As a teacher I was drawn to Montessori's belief that teaching is about observing, guiding and directing in the child's natural enthusiasm for learning. As a mom I love the focus on developing the independence which children long for. As an artist I am drawn to the simple, beautiful materials and sense of order in the prepared environment. Robin is happy that much of the Montessori philosophy fits perfectly with unschooling.
In this way we shall notice that the child has a personality which he is seeking to expand; he has initiative, he chooses his own work, persists in it, changes it according to his inner needs; he does not shirk effort, he rather goes in search of it, and with great joy he faces obstacles within his capacity to overcome.  – Maria Montessori
8. Are you influenced by any other homeschooling philosophies?
I recently read the book Nuture Shock by Po Bronson and Ashley Merryman, and was intrigued by the Tools of the Mind curriculum for preschoolers. I also have a Waldorf book on my shelf that I have yet to read. Montessori just so perfectly fit our needs I don't have a big desire to seek other influence right now. I naturally mix in my own ideas along with whatever interests Ronan. I have always been the type of teacher who doesn't want to be a slave to curriculum so I don't feel bound to the details of method. As long as the child is enjoying learning, go with it!
9. Do you use a particular curriculum? Any recommendations?
The books I already mentioned are good resources. I recently found a montessori outlet store online which has reasonable prices on materials (Montessori Outlet.com). A brief but helpful guide is entitled Teaching Montessori in the Home: The Preschool Years by Elizabeth G. Hainstock. It is a bit outdated with some of the activities, but with some creative thinking they can be adapted. This book has a good synopsis of the philosophy behind the method if you want a quick read.
10. What does a typical day look like at your house?
After we get up and have breakfast, Ronan is usually right into reading books or some other activity off our shelf of materials for a while. If it's a "preschool" day, his friend comes over from 9 to 11am. The boys choose what they want to work on from the shelf for the first hour and a half. I help them, show them how to use the materials or introduce new activities. Then they clean up their work space, have a snack and get ready to bring his friend home. After lunch is nap or quiet time. Ronan usually "reads" books or plays quietly with toys of his choice. When little Ilse wakes up we all convene again around snacks and making dinner together (Ronan always wants to help). Winter is a bit different but usually we try to be outside for at least an hour everyday either before or after lunch or before dinner.
11. What is your best homeschooling tip?
I am just figuring this out as I go but I guess my tip is that you have to choose learning activities that your child is ready for. I find that if I hit the right balance of challenging enough without being too hard, the kids get really focused and absorbed. Forcing (if this were even possible) a kid to "learn" a skill when he isn't ready just leads to frustration for all involved.
12. As a home learning family, what is the one item you couldn't do without?
My kid!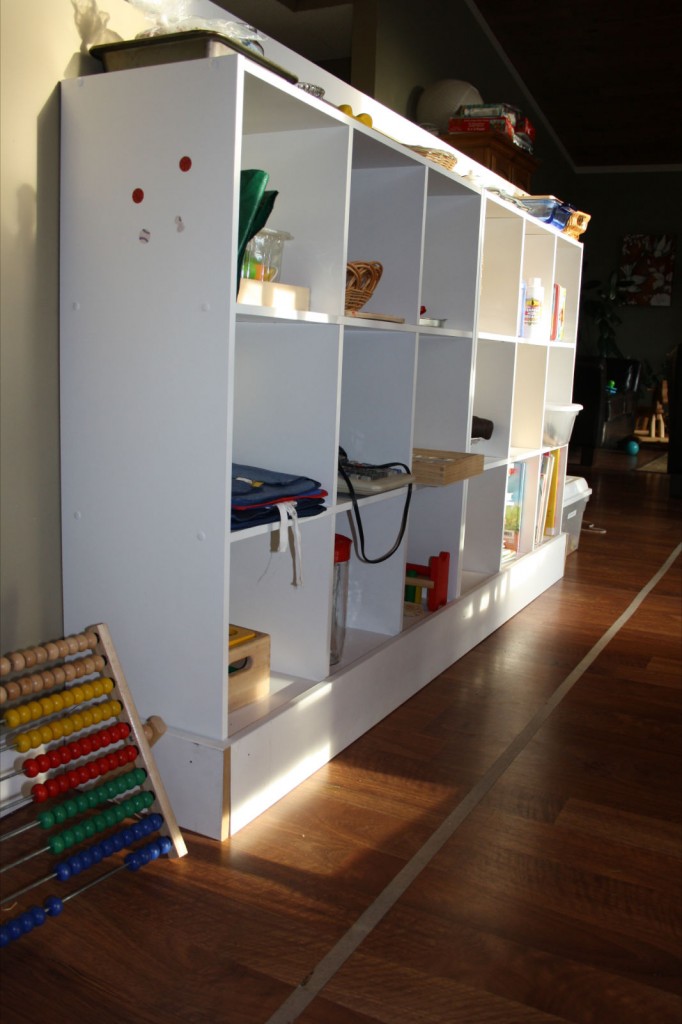 Thank you, Sara, for your informative and inspiring interview.  What a great starting place for others intrigued by Montessori (myself included)!
We're linking up with Homeschool Creations for Preschool Corner and The Magic Onions for Friday's Nature Table.
Enjoy!