This week, I continue my series on reasons to homeschool, with a look at socialization, and why it is one of the greatest benefits of homeschooling.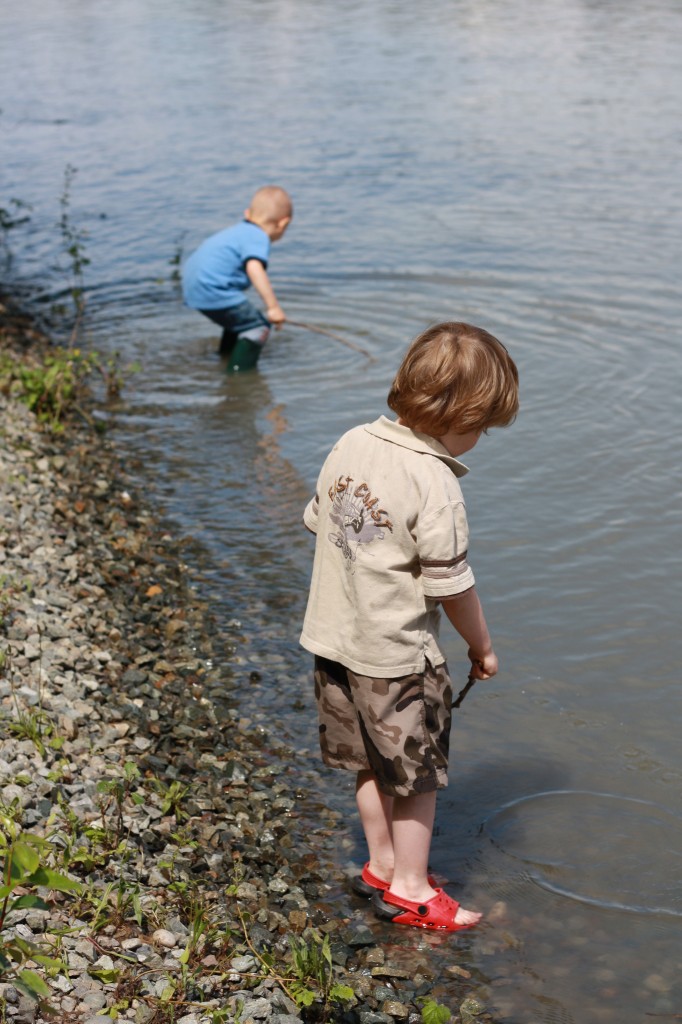 If you've spent any time at all homeschooling your kids, the very word "socialization" probably makes you groan.  You might want to shake your head in disgust, or you might just want to inwardly sigh.  It simply always comes up.  As homeschooling parents, we hear phrases like, "I could never do it.  I want my kids to have friends," or "going to school will be good for them," or the best one, "I made it through, so I know they will."
No one spells it out better than Gordon Neufeld and Gabor Mate, in their book, Hold on to Your Kids.  Essentially, Neufeld debunks the myth that learning from our peers is a preferable thing.  In fact, he downright says it's a bad thing.  He gives a lot of reasons, and they all make sense.  Here's a few of the basics:
Peers are not mature.  Therefore, they don't know how to support a child / friend's emotional development.  They are still developing themselves.  Makes sense.
Kids have primary attachments.  If their primary attachment is to their peers, it can't be to their parents (or teachers, or mentors, or other mature, caring adult).
Kids who are peer attached don't mature.  They don't grow into properly functional human beings, because they never get beyond adolescence.  We probably all know people like this.

To me, Hold on to Your Kids makes so much sense.  Of course, peers are not mature.  A child's ten-year-old best friend does not have that child's best interests at heart.  Love them they might, but they can't have their best interests at heart.  They don't even know what they are.
When we, as a society, expect our children to become "socialized" by other children, we expect them to learn how to think, reason and behave by being with others kids. How will other kids teach them manners?  Or critical thinking skills?  Or empathy?  These are all adult concepts.  Adult skills.  Frankly, it amazes me that people would consider socialization to be an expected outcome of peer groups, like preschools, and classrooms.
An article that I read last week, really resonated with me.  It presents the idea that preschool is actually a very stressful setting for young children. It argues that they aren't equipped to handle long spells of interaction with peer groups.  It made such perfect sense.  I see it again and again with my child.  He's incredibly social, and loves being around other children.  But, we have to be so careful to give him the down time he needs.  The time to process.  And the time to reorient to our family unit.  Sure, he might be practicing interacting with other children when he is with them, but he learns those things from us.  When I see how he absorbs the way I speak to his younger sister, how he negotiates with her, and treats her with kindness (in his good moments), I know he learns these things from me: as an adult, modelling.  Not as a child struggling through a new set of skills (a child just struggling to keep their own emotions together).
As for socialization, I think it is one of the greatest benefits of homeschooling.  Children are able to learn social skills from adults.  People who already know how to handle themselves.  People who have already developed empathy.  People who know how to interact with people of all ages: young and old, not just peers.  People who have coping skills.  People who are not intentionally hurtful.  People who are not posturing for social status.
Homeschoolers are in the unique position to learn from a variety of adults: parents, grandparents, community workers, mentors and, teachers.  And they also get to practice those skills.  Not in an age-predicated, quarantine situation, but in an everyday, every age world.  That is, the real world.  You know, the one where the rest of the people live.
A loving home environment, coupled with a varied peer group (of multiple ages), and a variety of caring adults seems pretty ideal to me.  And it seems that home learning offers a beautiful, and effective way of providing that experience.
So, yes, I think my children will be different.  Even differently socialized.  They will probably stand out in a group of their peers.  It may even be awkward.  But, I hope they'll stand out in their confidence.  Their adaptability, and ability to discourse with people of all ages.  And, most of all, their empathy towards fellow human beings. This is a gift I hope that homeschooling can give to them.  A gift that will serve them well throughout their lives.
—
How about you?  Do you ever worry about socialization?  Do you notice differences in your homeschooled kids?  Positive or negative?  Both?