Okay, so I am a public librarian.  Which makes me kind of biased.  However, I really don't think there is a conflict of interest here – so I'm going to soldier on.  The library card: a homeschooler's best friend.  I stand by this statement.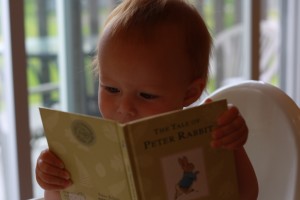 I realize that some homeschoolers like to purchase a complete curriculum (or two or three…) and perhaps may think of their visits to the public library as secondary in nature.  Useful for support materials.  I would like to make the case that every homeschooler should be intimately connected to their local public library.  Why?
It can be your number one resource.  Books are obvious.  But, your public librarian can also host classes for your homeschool group, recommend great books and resources you wouldn't know about on your own, show you how to conduct research, evaluate information, and be a great community connection for your child.
It's your place.  There is a movement within public libraries to function as the "living room" of a community.  How successful this has been will vary greatly by library and experience.  You, being on the outside looking in, would probably know better than I.  But, those of you who have found a special place in your local library, will identify.  Not only is the public library a great place (to read, to spend time, to make a part of your weekly routine), it is also your place.  As in, you pay taxes to make it exist.  You have a vested interest in it – so make it your own.  We go to our local library every Monday.  It makes a wonderful start to the week, and is a perfect part of our weekly routine (in fact, we'll be there today).
It's free.  Yes, I know, I just told you that you pay for it.  Which is true.  But, for the most part, libraries don't charge a fee for service.  So take advantage.  When almost everything else costs (classes, curriculum, museums etc.), it is great to have something so valuable, be so very priceless.
You'll learn, too.  Your children will learn something new every time they come.  So will you.  I truly know of few other places (particularly, indoor places) with the potential to inspire so thoroughly (again, note the bias).
If your child doesn't have a library card, go and get one for them today (at our library, even babies can have their own).  You can use it as their first introduction to managing their finances, time, resources etc.  It's a great tool for promoting responsibility.
But, of course, more than that, it's the ultimate tool for opening their minds to lifelong learning, and the capacities of human potential.
I could wax poetic all day (which I won't subject you to).  I'll just end with two thoughts.
One, homeschoolers don't necessarily need a curriculum designed for them by a company that markets to homeschoolers.  They do need access to information about the things that interest them and the skills they need to acquire.  Enter the public library.
The second and final thought, please don't impose an unreasonable limit on the number of books your child takes out.  One is just not enough!
Now, with that, go ahead and be inspired.  Introduce yourself to your librarian, get a library card, and whatever you do, don't forget to browse for yourself, too.