For this week's inspiration, I would like to share a bit about my recent interview road trip (ferry trip, actually). When I shared the concept of The Homeschool Co-op with a good friend, she was wonderfully receptive and supportive. She suggested introducing me to a number of her friends who homeschool in a beautiful part of British Columbia called the Cowichan Valley.
This past week, I was lucky enough to take the kids on an adventure to visit her, and meet and interview 5 diverse and wonderful families. All with different ways of homeschooling, yet all committed to the lifestyle and to the education of their kids.
As inspiration, I thought I'd share a few of my reflections from the journey (I'll be sharing the interviews in upcoming Featured Friday posts, so stay-tuned).
After speaking to all five families, and reflecting on what homeschooling means to them, and to myself, I have come to this conclusion.
Homeschooling is more of a lifestyle choice than an educational one.  And, I would argue, one of the most exciting choices one can make for their family.
Yes, many people pull their kids out of public school because of difficulties they are having.  Yes, many people believe they can give their children a superior education at home. But, homeschooling is so much more than "schooling."
Listening to each family talk, I was struck by the great flexibility that homeschooling allows.  How each family was able to build their lives around their values, and their interests.  How each family was able to play to their own child's strength's and weaknesses.  Encouraging, strengthening, challenging them.  I was struck by the great range of educational choices available.
But, more than that, I was struck by the commitment every one of these people had to their families.  To creating an environment in which family was front and centre.  In which education and family development complemented one another beautifully.  In the hope of making them all stronger and wiser individuals.
I would argue that it is possible for a child (in fact, a great many children) to get a fantastic education through public school (or private school for that matter).  After all, the majority of people have received their schooling in this fashion.  And there are a great many fantastic, smart, educated and wise people in existence.
However, I do not think the argument should stop there.  One should not simply conclude that a person able to get a quality education through public school should do so.  Making any sense yet?  Stick with me.
I believe that homeschooling has the potential to provide a superior education.  I want to homeschool my own children, partly because I know I can give them what they need educationally (but, not because I believe I am the only one who can).  But, more than that, I believe homeschooling has the potential to provide a superior life.
The families that I spoke to all had one thing in common, they were committed to giving their children an extraordinary life.  This looked different for each family, but, in each case, extended beyond their education.
It extended to their experiences.  To their ways of being in the world.  Interacting with people, and processing information.  Their ways of socializing, and, yes, their ways of learning.
So, yes, I think I can do a good job of helping my children reach their educational potential.  But, more than that, I want to give them an extraordinary life.  The kind of life that they can be proud of.  The kind of life that starts now, not twelve years from now when they finish high school.  The kind of life that will allow them to experience a perspective far wider, grander and more complex than that inside a classroom.
So I am embracing the home learning lifestyle.  Because life is short, and I want my children to experience all the richness and wonder it has to offer.  And because, I want to know my children have not been short-changed.  And because I want to be continually learning, and because I want to inspire the same desire in them.  And for so many other reasons of my own.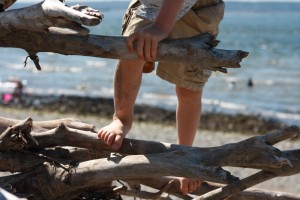 And yours will be different.  But, they will be yours.  And your family's.
And your lives will be remarkable.  And extraordinary. And full.

On this, the eve of "back to school," I encourage you in your choice to homeschool your children.  And I'm inspired, too.  Because home learning is, above all, a lifestyle of possibility.  Enjoy!