Ever wondered how homeschooling works for large families?  Here is the fourth in our series on homeschooling in the Cowichan Valley, BC.  Jenny White generously shares her secrets and tells us a bit about how it all works for her family of five girls.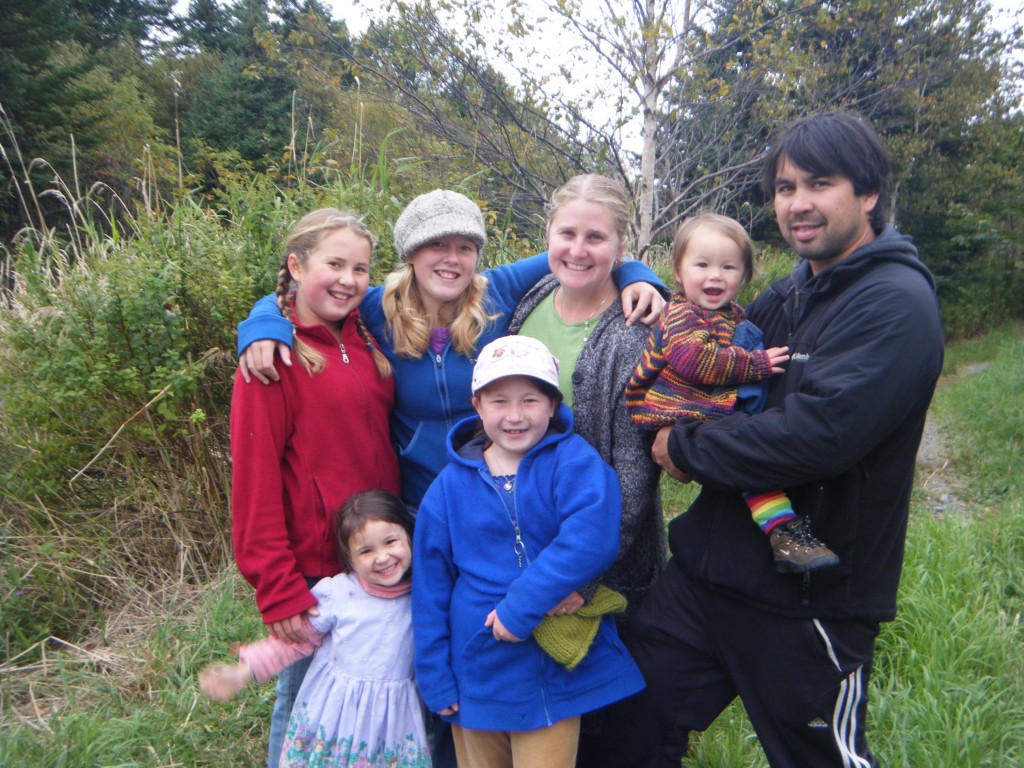 1. Tell us a bit about your family.
We are: Jenny and George White.  Our children are Belle (13), Emerald (11), Lavender (9), Poppy (5) and Honey (2).  We love being together, and living a rural, self-sustaining life – in a busy, chaotic life.  But, we are striving towards simplicity.
2. Have you always known you wanted to homeschool?
Yes.  I went to school to become a teacher when Belle was 1.  Originally, I wanted to run an independent school.  For awhile, George and I were both in school together (we took a family studies course together!).  It was fun.
But, when I had Emerald, it became too much.  And, I learned how much I wanted to be home.  I couldn't fathom sending my kid away full-time.  We did co-op preschool with Belle, but we slowly moved our way out.  None of them went to preschool after that.  I want to be the one watching them reading, learning, and absorbing – not hearing about it at the end of the day.
3. What is your favorite thing about homeschooling?
The family togetherness that is created.  That kids aren't separated by age, and that family can be their primary influence, not peers.
4. The hardest thing?
Feeling torn in many different directions all day.  I worry that the kids don't get enough one-on-one.  I would love to rotate days to sit down one-on-one for half an hour.  Finding time for each of them.
I run every morning on my own.  That has always saved me.
5. What do you do to get ready for back to school?
We start with a conversation about what they want to learn, and I start planning our schedule.  I order some math books, and we attend a "not back to school" picnic with other homeschoolers in the area.  And piano lessons start (for the three oldest).
6. Do your children ever ask to go to school?
No.  They've never asked to go to school.  They're not interested.  We've talked about it, though.  They don't want to be labelled as too different.  So, they do participate in mainstream activities.
7. Do you prescribe to a particular homeschooling philosophy?
Whatever works.  I choose by their interests.  I guess we're eclectic homeschoolers.  We do some sit-down work, but we're not super rigid or structured.
8. Do you use a particular curriculum?  Any recommendations?
The Story of the World by Susan Bauer for history.  There are four volumes, with history books and activity books.  And we use the Math Makes Sense textbooks.
We've been with E-bus and Self-Design (BC distributed learning schools).  And we've used Lifesong and Sides curriculum.  We are with E-bus now, and 3 times a year we send in work samples.  We did have to adjust to getting grades back.  We didn't like receiving them, and we don't show them to the kids.
We just use the library, honestly.  I like unit studies.
9. What does a typical day look like at your house?
We get started pretty early.  We're up and functioning by 8am.  I go for a run, shower, get breakfast going.  Then we do piano and workbooks (different topics each day).  Honey runs around and does activities, while the others learn.  Generally, everything is done by noon.
Really though, it is pandemonium all morning, with little ones running around, laundry to hang, the goat gets out… It's like a musical for three hours.
Later, we do lunch, then a walk, then activities (soccer etc).
10. And, do you ever worry about socialization?
No.  I never worry about it.  There is too much socialization, if anything.
11. What is your best homeschooling tip?
It's a Buddhist saying, "Embrace the chaos.  Expect it to spill."
12. As a homeschooling family, what is the one thing you couldn't do without?
Family time.  And our local homeschooling group.  We use Yahoo groups for activities and other things.