Our family has been extremely busy lately.  My husband and I have opened a new business (in case you're wondering where on earth I've been).  That, coupled with our son's first year of homeschooling – we've been busy!  It was a wild summer, and a crazy fall!  While we're still working out our kinks, I like to think we've been able to strike some kind of balance for our family.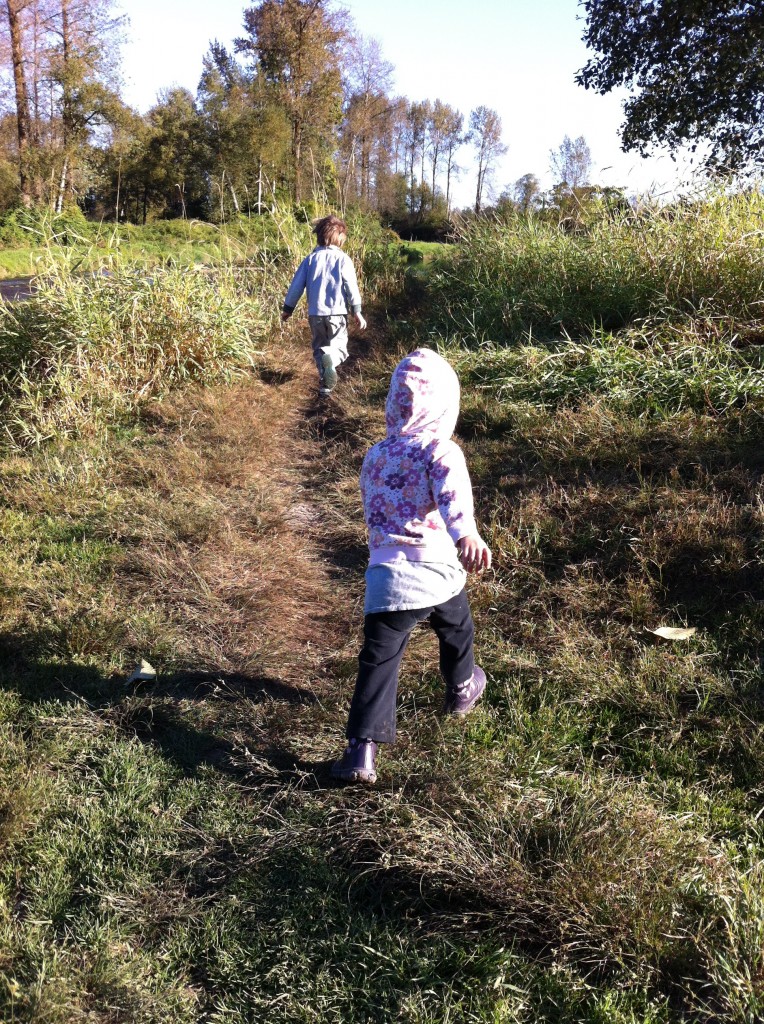 This week, on a rare full day off, I took the kids to our local science centre, Science World.  It is a crazy place, full of experiments, presentations, activity centres and displays.  It's also full of kids!  We had a great time exploring and watching the fascinating, and, at times, hilarious, science show.  When it came time for the end of the day (and our parking was running out!), I rushed the kids out – wanting to give them the last few minutes to soak up the fun.
As we're rushing to the car (in the pouring rain – another motivator), my son stops and throws this hammer down.
Mommy, why are you ALWAYS rushing me!  It's always, hurry, hurry, hurry.  I have things to do, and you're always rushing me.  Why do we always have to be so fast!?
The words you hear about, and dread, and assume (of course) that you are above.  And, I so knew he was right.  I am always rushing him.  To be fair, he is pokey.  I mean, give him an inch, and he will take a mile.  He loves to explore.  He's fascinated by everything.  I mean, everything.  And he wants to take it all in.  Yesterday, it was a giant marble run.  Another day it might be a bus driving by.  Or a fascinating cloud.  Or, tonight, a game of fishing boat.  With him, there is always something to stop and do.
So, if you have a schedule, it is often hard to keep.
But, no excuses.  I know, I'm still in the wrong on this one.  Because, of course, we all of have to get things done.  But, my son shouldn't have to feel rushed.  I should be able to give more lead time.  Plan better.  Plan less.
One of the major reasons we chose to homeschool was precisely to avoid moments just like this.  To give ourselves more time.  More wiggle room.  More time to stargaze, or marble gaze, or whatever.  And, in my mind, we are free from a lot of scheduling.  No having to get up every morning for school (although many mornings we still get up to take Mommy or Daddy to work).  No rushing from school to one activity, and another.  No cramming it all in on the weekends.
And, yet, somehow, we are still rushed.  So, here we are.  I'll be the first to admit it.  We have a busy week.  We have a busy weekend.  Mom and Dad work (while one is working, the other is at home, homeschooling / living – for the most part).  And, yes, Dylan is enrolled in classes.  Art, dance, music, outdoor school one morning a week.  So, it's not as if we stay home all day and do nothing.
Two thoughts on this…
1. I still can't imagine adding full-time school to the mix.  My poor child (and my self) would be on overload.  We'd probably implode.  Or we'd cut down on everything else, and he'd miss out on the cool enrichment activities that he enjoys so much.  Not to mention playtime.  I'm thankful we aren't there.
2. I've got to admit, we're still askew.  If my son is asking for less rush, then he's feeling it.  And, if he's feeling it, then something isn't right.  So, time to either cut down, or get better at time management.
I know.  A lot of homeschoolers are in the same boat.  We choose to homeschool, at least in part, to give ourselves more time.  I wonder, then, how many of us simply replace that time with other things?  Filling our days, when we could be filling our souls with quiet or peaceful play?  Is it hyper vigilance we need, or simply a bit of prioritizing?  Or even just a bit of warning for our children?  Are we fooling ourselves to think we are free from the rushing onslaught of  modern daily life?
How many of you strike this balance?  Do you feel grounded?  Rushed?  I'd love to know how other working and homeschooling moms feel about this one.  Can you find a middle ground?  Or, for you, is it more about wisely spending the time you do have?  And approaching even the hurried moments with a calmer frame of mind?
Two months into Kindergarten, and we're still working on it.  I suppose that should be no surprise.  It's a new and wild lifestyle we've entered.  And there is no handbook.  But, from here out, I'm going to be more mindful that we are, truly, doing the best we can.  So, my explorer can explore.  Just a little more.