During my recent visit to the Cowichan Valley, I was privileged enough to meet with Steve Bastian, a homeschool teacher, working with Heritage Christian Online in British Columbia.  We had a great chat on all things homeschooling – from a teacher's point of view.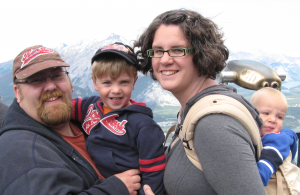 1. Tell us a bit about yourself.
I am a homeschool teacher with Heritage Christian Online School.  My wife Carrie and I have two young boys, Silas (3) and Boaz (1).
My mother was a certified teacher, who started homeschooling with my sister.  She pulled her out of school because of behavioural issues she recognized from being a teacher.  Later, she homeschooled me from grades 7 to 9.  I then completed high school through Distance Education.
2. How did you become a homeschool teacher?
I had plans to be a clinical psychologist, but one of my professors recommended I become a teacher.  I had never thought about it before, but I decided to try out some education classes.  At first, I fought it, because I didn't want to be a teacher like my mom.
Originally, I wanted to teach high school, so I geared my college education towards middle school.  However, when I graduated, there were few options for teachers in Alberta (where I lived at the time).  I took a job in Medicine Hat as a special education teacher, and enjoyed the area.
When I found a job at Heritage Christian, it took me a long time to believe it.  I would be working in the special education field, as a teacher, with homeschoolers.  And it was an independent, Christian school, but my position was funded by the government of BC.  I'm now in my fourth year at Heritage Christian.
When I look back in my life, I can see that the Lord led us this way.
3. Will you be homeschooling your own children?
We'll see.  My wife has become more and more okay with it, but ultimately, it will depend on the exact needs of my children.  The classroom might not be the best fit for two busy little boys.
 4. What do you see are the advantages of homeschooling?
Where do you start?  It's family focused.  You're not letting others decide what your children are learning.  After all, the brick and mortar school model is only 90 years old.  Before that, we didn't have full day schooling.  With homeschooling, ever student can have a tailor-made education.
 5. Could you tell us a bit about Heritage Christian Online?
Heritage Christian is a huge school (over 2000 homeschoolers enrolled).  It operates under the supervision and funding of the BC Ministry of Education.
At Heritage Christian, the teachers function as consultants.  We have some amazing staff members, including Sara Bennet, a prolific homeschool activist and Janet Rainbow, who helped spearhead the portfolio graduation option for British Columbians.  We are very progressive, and we have a brilliant computer staff.
6. Do you prescribe to a particular homeschooling philosophy?
Well, Heritage Christian's motto is "quality educational choices with Christian values," which really resonates with me.  People raising their own families, and being part of their learning.  Putting their kids first.  There are ways to work without it, but I really want that for my family.
7. Do you use a particular curriculum?  Any recommendations?
There are so many choices.  I would recommend, for your first year, to purposely choose a few different perspectives or methods and try them out.  And be prepared to switch it up with the next child (a good public school teacher will do that, too).  If you're enrolled with a distributed learning school, your teacher can help you decide.
For many kids, the online Heritage math program is great.  And for history, I would recommend the Story of the World series by Susan Wise Bauer.
8. Prospective homeschoolers are often concerned about ensuring  that their children graduate with the right credentials.  Could you speak to that for a minute?
The Grad Program in BC has amazing flexibility.  It is funded by the seat, which means homeschoolers aren't required to enroll in only one institution.  High school students have the option to take classes from up to 8 different high schools.  You could take math from Heritage, for example, and, if the local high school has a great mechanics program, you could enroll in that, too.
Depending on what you want to do after school, homeschoolers can decide to get their Dogwood certificate (official BC diploma) or not.  In BC, the University of Victoria, and the University of British Columbia require it, but otherwise there is flexibility.  And, even if they don't have a Dogwood, people can always wait two years and apply to a school as a mature student.
High school students can also graduate using the portfolio option, with no diploma, just a presentation of their skills, and the work they have done.  Applying for college this way, they would talk to the special admissions department at the university.  If a student knows which university or college they want to attend, they call call and speak to the admissions department ahead of time.  Each college will be different – but almost all will be willing to work with you.
At Heritage, we try to prepare students for what they want.  For more information, parents can always talk to one of our grad counsellors.
9. What is your best homeschooling tip?
Connect with other homeschoolers.  Then you'll learn that all the emotions and frustrations are completely normal.
10. What is the one item a homeschooling family shouldn't be without?
I'd say subscriptions to online services, such as Discovery Streaming.  Again, if you're enrolled with a distributed learning centre, they will often subscribe to a broad range of subjects.