This week, we've been putting together a box of goodies for the nature exchange we signed up for at
The Magnifying Glass
.  We simply submitted our name and address and the lovely folks over at The Magnifying Glass matched us with another family.  They tried to match families with those living in different areas of the continent, so that we might send regional surprises to each other.  We've been matched with a family in New York!
First off, the concept sounded fun to me, because I love getting things in the mail!  I'm one of those who loves ordering catalogues, just so I can look forward to that special delivery.  Our mailbox is also just the right distance from our house, that it makes for a perfect walk with my kids.  Especially, if there might be something waiting for us on the other end!  Getting home is another story altogether sometimes (like this week) involving screaming toddlers… still…
When I told my son about it, he was pretty excited.  Sometimes, it's hard to get him excited about things that were my idea, but once I explained the concept, he took to this one.  He's a pretty sweet little boy (there are exceptions, of course), and likes to give gifts.  So, he had a great time looking through our nature collection, and deciding what we could give.
Here's a photo of the collection we decided on: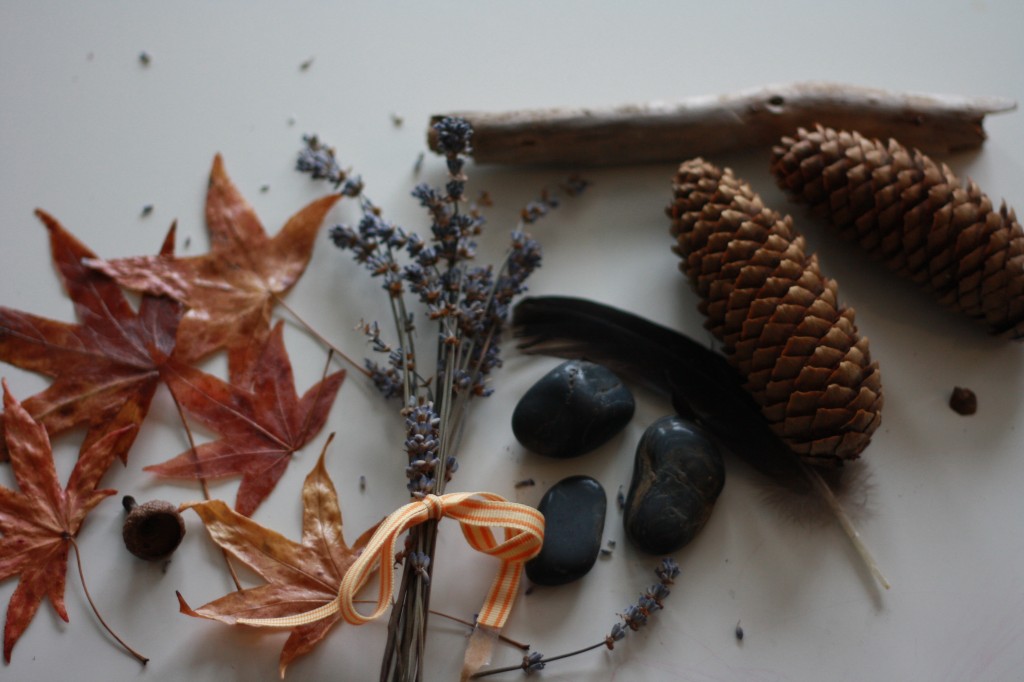 And here's another one, after we've packaged it carefully for the recipients.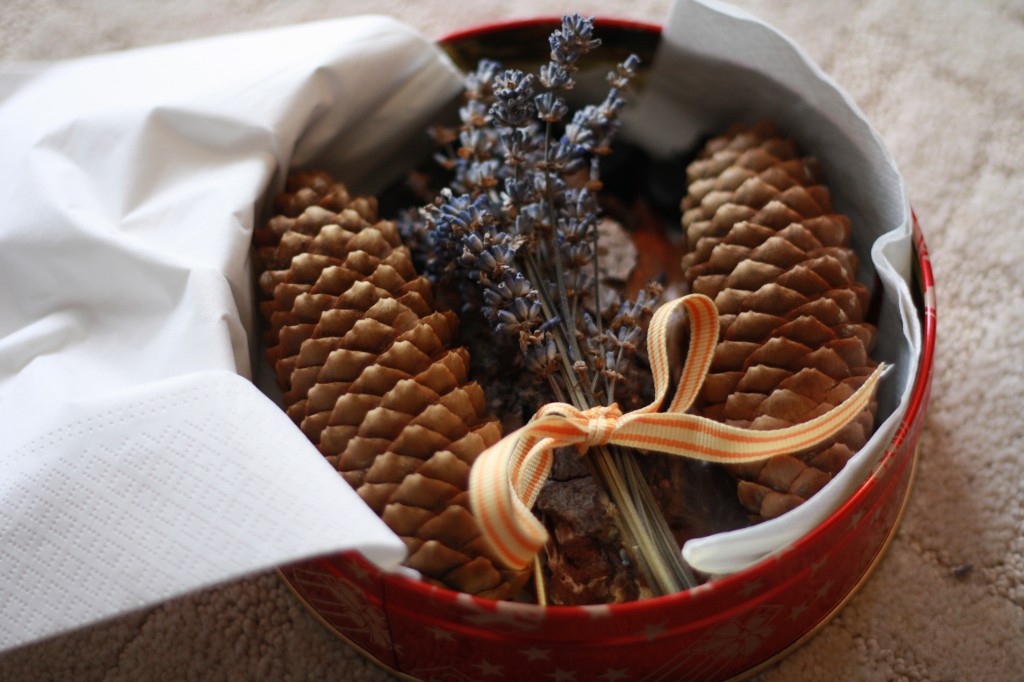 Altogether, they're getting:
5 leaves (preserved with glycerin)
a mini bouquet of dried lavender
3 smooth, polished rocks from Dylan's special collection
2 pinecones
1 piece of driftwood
1 acorn cap
That was about all that could fit in our box, so away it will go in the mail.  We plan to go to the post office today and send it off (an activity that is always met with enthusiasm).
So, apart from being a lot of fun, how did we benefit from this exercise?  (I like to extrapolate from what we are doing every once in awhile, to remind myself of all of the amazing learning applications that can be found in life):
Counting – we carefully enumerated everything that went in the box
Giving – sharing of our own things (in this case, our nature collection) sometimes takes a lot of effort, but is something I like to encourage in myself and my kids.  Plus, it's a nice lead-in to a discuss about giving at Christmas.
Nature study – we talked about, and studied each object that we included
Exercise – getting the items for our exchange meant that we were able to go on a few great "specimen collecting" walks
Photography – both Dylan and I took photos of the nature box before we wrapped it all up, giving both of us the opportunity to hone our skills.  I love how photography is becoming his own idea (I rarely suggest it, but he's often inspired when I take out my own camera, to get snapping).
Geography – We looked up New York together on the map.  When we recieve our package, I hope to tell him a bit more about New York, and discuss the different environment and habitats on the East Coast.
And that's just off the top of my head.
We're so looking forward to our own package in the mail!  But, even if it doesn't come, we've had a great time with the nature exchange.  If you haven't had a chance to participate in this one, perhaps we'll run our own around here one of these days.  Any takers?
We are linking up with Owlet for Unschool Monday
Momschool for the Carnival of Homeschooling
The Momma Knows for the ABC's of Homeschooling
Homeschool Creations for Preschool Corner
Enjoy!