As promised last week, here is my review of Ice Pop Joy by Anni Daulter.  For all of those dreaming of warmer weather – this one's for you!
Last year, I spent nearly all summer with this one little dream: homemade popsicles!  For most of the summer I was stymied with the hope of making popsicles, but the reluctance to make them in plastic (BPA and other leachable chemicals make me uncomfortable).  So, I spent  a long time considering a stainless steel popsicle mold.  When I found one, I finally decided to fork out the money ($40) for one – knowing that it was something we could use every year.
We made one set of delicious orange / carrot popsicles!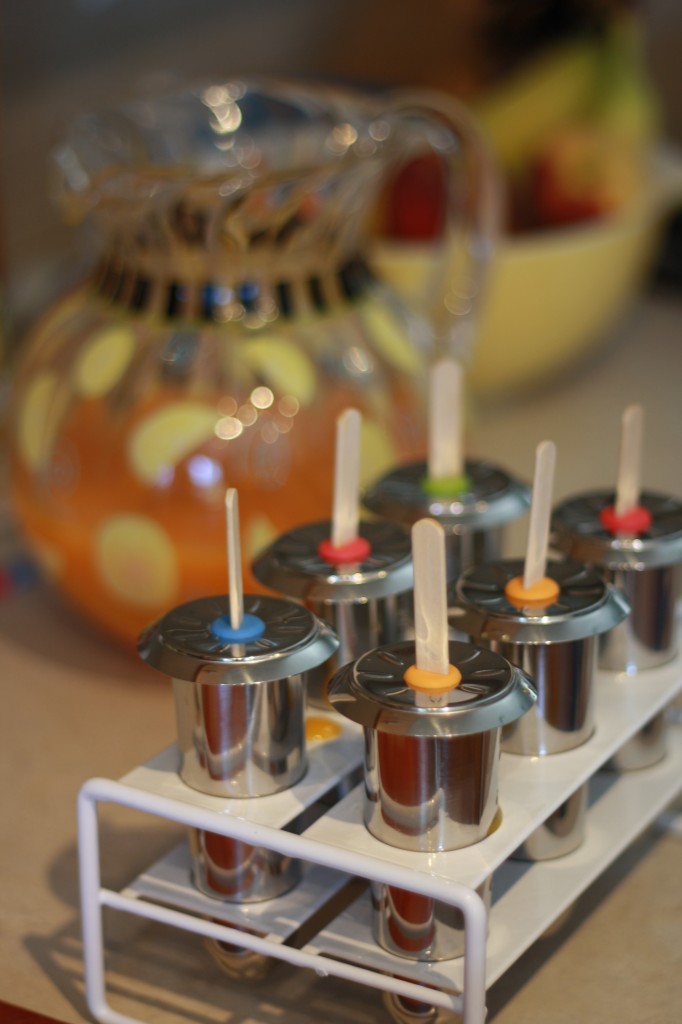 Then the weather changed…
But, this year – I'll be ready!  Popsicle mold in hand, I am so ready for Ice Pop Joy by Anni Daulter.  When I received this book from the publisher, for review, I couldn't believe my luck!  It was as though someone knew exactly what I needed.  After all, I had been preparing for it since last summer!
Ice Pop Joy truly is a joy.  It's full of recipes (an entire book!) for healthy popsicles that are sure to put a smile on faces both young and old (read: mine).  With gorgeous photos (yes, photos of popsicles can be gorgeous) and recipes with ingredients as varied as tofu, dates, herbal tea, kale and chocolate (not all in the same pop), it is a rare indulgence.  I, for one, am pretty stoked to make ice pops with my kids all summer long.
Author Anni Daulter is an expert in healthy, organic food – having published several books on the topic.  She specializes in food for kids and families, and this one doesn't disappoint.  Sure, it's an entire book devoted to ice pops – but I guarantee there are recipes here that you've never found elsewhere.  It's a great way to get your kids experimenting with you in the kitchen.  Plus, it perfectly captures the scrumptious nostalgia that ice pops elicit.
So, if you're looking for a real treat to get you geared up for warmer weather, Ice Pop Joy may just be it (my son's already picked his favourite recipes).
Oh, and in case you're wondering:  here's a link to our popsicle mold on Amazon.  We love ours.

So, without further ado… welcome to March!
—
We're linking up with: