Because it's math week, I'm sharing my review of the Arithmetic Village books, and the story of how we used them for my son's birthday party!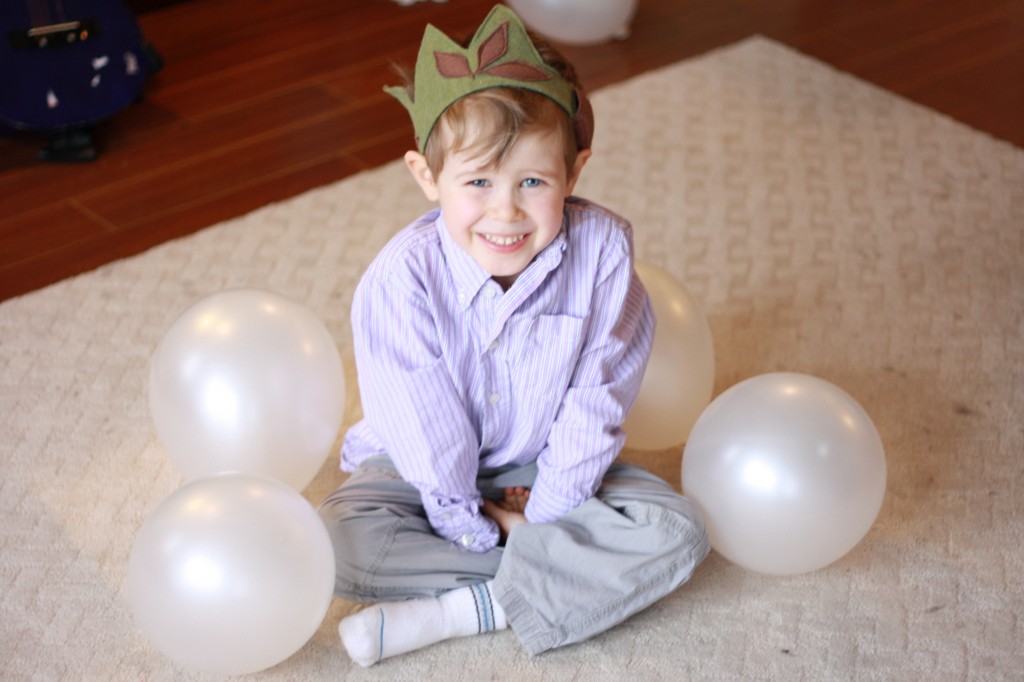 Sometime last fall, I actually won a blog contest!  As it turns out, I was the very lucky winner of a complete set of five Arithmetic Village books by Kimberly Moore, through Denise at Let's Play Math (a great blog to get you thinking positively about math – and full of ideas).
Needless to say, I was pretty excited. When the books came, I was even happier. I had assumed they'd be too advanced for my son (who was only 3 at the time), but it wasn't the case. I'd say the Arithmetic Village books are accessible and relevant to all kids under 10.  They are written in lovely, simple rhyming prose. They make great read-alouds. Each one has a different theme be it, addition, subtraction, multiplication or division.
The stories are simple, all revolving around a village where jewels fall from the sky and everyone shares them. If that doesn't seem much like math, it's probably because it's also life. Sharing jewels with others, becomes division. Gathering jewels addition. Losing them, subtraction. Counting bunches of jewels, multiplication. The characters are sweet, and the stories are, too.  The kingdom is all overseen by a generous king by the name of King David Divide.
Another great thing about Arithmetic Village is, there is also a website, full of idea as to how to use the books to introduce math in a simple, gentle way. The books and concepts are so far removed from worksheets, and numerical representations, that it doesn't feel like math.
When I received the books, I wasn't sure I'd like them. Their design and quality didn't impress me. But, the content and approach to math truly did. As I see now, the author is in the midst of a re-design of the books: a choice that will no doubt serve them very well.
So, how do we apply the knowledge? Well, my son is still pretty young (4), so he is just starting to grasp some of the concepts. We haven't really "worked" at them, yet. The books and their way of introducing math concepts could appeal to kids of all elementary ages, but, starting at 3, this is how they've already worked for us.
For my son's birthday party this year, we had a loose "enchanted kingdom" theme. I made him a felt birthday crown, and the kids made ribbon wands in lieu of loot bags (I'm reticent to send kids home with plastic junk).
This year, I knew I wanted to do some storytelling (I'm a children's librarian, so it's kind of my specialty).  We were trying to decide what to read, when I thought of the Arithmetic Village books.  Initially I thought of these equations, math + birthday = boring, or math + birthday = overkill.  I thought perhaps our friends would think we were crazy homeschoolers, determined to make everything a learning opportunity.  But, my son grasped onto the idea, and we came up with a game together.  He was so excited, I just had to say yes!
Before we started the story, we did a fingerplay, "Here is a Little Boy" (to send everyone off to Arithmetic Village in their dreams).
Here it is, in case you don't know it:
Here is a little boy (hold up right index finger)

And here is his bed (lay left palm flat in front of you)

Here is the pillow, (bend your left thumb)

Where he lays down his head. (lay right index finger, on left thumb pillow)

Here are his covers, (wiggle left fingers)

Tuck him in tight, (wrap left fingers of right index finger – now laying your palm)

Sing him a lullaby, (rock your wrapped finger slowly)

And kiss him goodnight. (give your finger a kiss).
Then, we read the first book, Arithmetic Village to the party guests.  It was awesome.  The sweet, simple, rhyming text makes it a great storytime book.  Plus, it's nice and short (which helps with multi-age groups).  The best thing was that my son helped me read it.  He sat beside me, and added bits and pieces here and there, and even wore his crown, posing as King David Divide.
After the rhyme and story, we handed out little felt bags (that I had sewn beforehand), to each child.  Before they arrived, my son had painstakingly hid a whole bag of little "jewels" around the house.  The kids were given the task of finding 5 gems for each bag (in the books it's 10, but these were 2-5 year-olds), and bringing their bags to King David.  He was supposed to collect all the bags, and then divide them evenly among the guests.  This is where things fell apart… largely because most of the jewels had already been found and played with – so they were all in one big pile.  A lot of the kids couldn't find any in "hiding places."  Tee hee.  It was fun.  A little chaos is good for a birthday party, n'est-ce pas?  Needless to say, for older kids, the activity would work even better.
Finally, the kids all made paper crowns to complete the day.  Plus, my son did a Montessori birthday walk with the earth going around the sun (4 times), and blew out candles on his beautiful Waldorf birthday ring.  (How does this relate to the "enchanted kingdom" theme?  It doesn't.  I was just so pleased to add these pieces to our birthday rituals).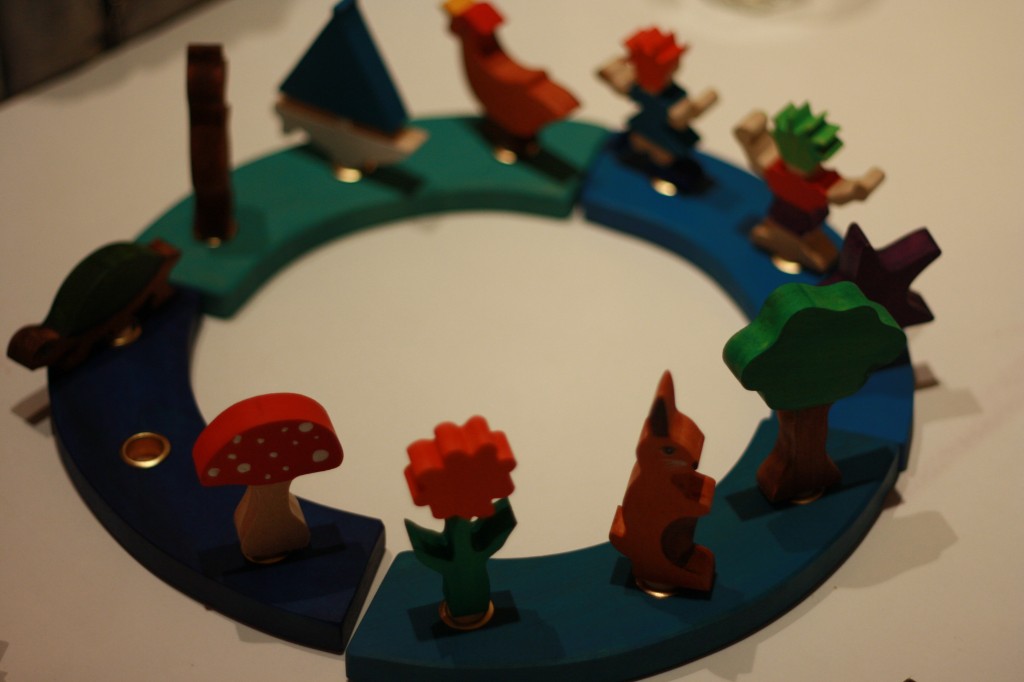 All in all, it was a pretty magical birthday.  So, if you've ever doubted, take it from me, math really can be loads of fun!  Even fun enough for a birthday party!
And, if you're looking for a simple, fun, effective way to introduce math concepts to your children, look no further than Arithmetic Village.  It really is enchanted.
—
We're linking up with: