Check out our interview with Minti Li (mother of twin preschoolers) from Maui, Hawaii.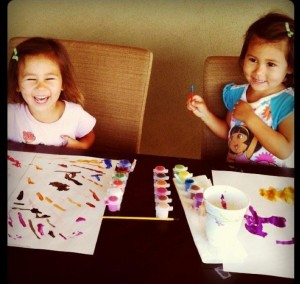 Tell us a bit about your family.
Our family consists of four member: Jason Sloan (28 almost 29), Minti Sloan (32), Lila Sloan (2 1/2 almost three), Talia Sloan (Same)
We love Jesus, and that is the number one thing that we desire as the center and foundation of our children's life.
We love doing things together as a family, and Jason and I make parenting a priority after God and our marriage. We try to read many biblical parenting books, and I just started reading some homeschool books.
To us, parenting is a privilege. That is why we try to learn as much as we can about it, so that we really learn how to do a good job with our kids.
We love being active, and surf together as a family once a week (the girls wear life jackets and we take them out on our boards).  We try to do many things together as a family, from home life, school, social life, church, sports etc. Of course the girls get time to play on their own with friends, too.
Have you always known you wanted to homeschool?
I absolutely never wanted to homeschool….until the girls were born, and I loved every moment of seeing them grow and learn. I just didn't want to miss out on any of it! Jason was homeschooled and always wanted me to do it. I thought I would go crazy staying at home doing homeschool, but I actually LOVE IT. It is incredibly rewarding to be able to watch my kids progress everyday.
I also love that we have a really big homeschool community here on Maui and the girls have many friends and family members that are homeschooled as well. It creates amazing support and encouragement when you can do it together with other families.
What is your favourite thing about homeschooling?
My favorite things would be watching my kids learn, and their love for learning. It is just amazing to see the passion they have and their desire for it. I also love going back through their past work and seeing the progression of it all. For example, looking at how they wrote the letter A a couple months ago, to writing their names now. It's just amazing to see them learn so quickly.
 The hardest thing?
Last year when I was learning how to teach, and the girls were still young and learning how to sit still and take instructions. We went through a couple months of learning on both parts. Now that we have our structure and expectations established it goes much smoother. But I would say the first couple months were very disruptive in the sense that I would have to stop teaching, to have to parent; and having to learn to do both at the same time was difficult for me.
What have you been doing to get ready for "back to school?" Anything?
We just ordered two different curriculums, bought some school supplies, and organized a homeschool luncheon with other moms to share ideas and start a monthly co-op.  Eventually, I would also like to have a classroom setting in my home (when space allows).
Do your children ever ask to go to school?
My kids haven't asked me to go to school. They know friends that go to school, and they have other friends who homeschool. They say they do school at home with Mommy and Daddy (sometimes).
They actually ask me on the days we are off from school, if we can please do school! I did school this past Saturday, because the two of them kept asking me over and over and over again to do school! They seem to really love it.
 Do you prescribe to a particular homeschooling philosophy?
I don't have a philosophy established yet, but I just ordered a couple Charlotte Mason books that were recommended to me by people who have homeschooled. So I look forward to learning more about her homeschool philosophy.
Do you use a particular curriculum?  Any recommendations?
We use Sonlight's 3/4 year old program, and ABC Homeschool Preschool's 3 year old program. I love both of them. I love all the reading that comes with Sonlight, and all the activities they create along with the reading. I love that both are Christian based. ABC Homeschool Preschool covers five subjects (Reading, Writing, Arithmetic, Science and Social Studies). I chose both because Sonlight is more reading and activities focused (just for this age), and ABC Home Preschool is more academically focused. So we get both when we combine the two. I have also used the Preschool Prep Series of Video/Workbooks/Reading Books. The girls loved it, and learned most of the sight words at two years old! I really feel that the program works well for kids their age.
Ongoing however, we will probably just use Sonlight as our main curriculum. We will also be using Math-U-See next year. I think that math program is amazing.
 Thanks, Minti, for all your thoughts & recommendations on homeschooling with young children.