Part two of a five-part series on homeschoolers in the Cowichan Valley, BC.  Homeschooling mom, Dana Corbett, sat down with me a few weeks ago, and described her unique homeschooling arrangement. Below, she tells me a bit about how a homeschool co-op is mutually beneficial to three unique families.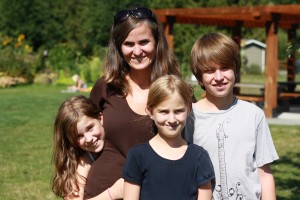 1. Tell us a bit about your family
We are a family of five.  Dana (35), Kevin (39), Noah (12), Anna (10), and Mollie (8).
We homeschool together with 2 other families (moms Karen, Freya and Dana).  We all have very different approaches to homeschooling.  I am quite structured.  Karen takes a Waldorf approach, and Freya is much more relaxed and unstructured.  We are all enrolled under Heritage Christian Online, though.
2. Have you always known you wanted to homeschool?
No.  The kids went to public school until 2 years ago.  We watched a good friend homeschooling for years, but I always said it wasn't for me.  As time passed, though, I found I wanted to spend more time with the kids.
I had no grand illusions that I could teach better, but I didn't want our day to look that full.  I wanted our mornings to look different.  If we homeschooled, at least interactions would go their full course.
I didn't want to regret not trying it, and, we had friends doing it…  Then we moved into our neighbourhood. That sealed the deal.  There are three families that live one street apart from each other.  One became a homeschool online teacher, and we all decided to homeschool under her.
3. What is your favorite thing about homeschooling?
The mornings.  We have a read-aloud (I read to them every the morning).  And I love our evenings.  They're just free to play.  I also love doing it [homeschooling] as a group (with friends).
4. The hardest thing?
Knowing how to motivate my kids.  For example, Noah.  It's hard to motivate him to do his best.  Part of it is knowing or figuring out how to offer constructive criticism.
Also, wondering if our kids learn enough.
5. Do your children ever ask to go to school?
Anna does.  She was in grade 2.  She loved her teacher and her friends.  It's a social thing.  But, now she has friends of all ages.  She loves it.
We posed the question to Noah. His (wise) answer, "school has its good parts and bad parts. So does homeschooling."
6. Do you use a particular curriculum?  Any recommendations?
We choose based on the kid and the subject.  We loved Teaching Textbooks for math.  And the mom who teacher history, Freya, uses Heritage Library.
7. 

What does a typical day look like at your house?
Because we share our learning and teaching with other families, it is more of a typical week for us.
 There are three families in our group that teach together, and each parent takes a block of time (half the day), depending on their subject area.  I usually teach science, for example.  But, each family also takes care of other subjects on their own (language arts, math, music).
Our week looks like this:
Monday is our free day (although one of the dads teaches horticulture to the kids once every few weeks).
On Tuesdays we have piano in the am, then the science teacher (that's me!) teaches science to six children.
Wednesdays we go skating at lunch, Thursday the kids do history lessons with Freya, and Fridays we have French in the morning, then we split the kids by gender for the afternoon.  One set does art, the other cooking.  The next week they switch.
With this kind of structure, all of the moms get some free time.  And we always make sure the kids get lots of exercise.
8. What is your best homeschooling tip?
Don't take it too seriously.  For the first year, just be with your kids.  Read to your kids, shop with your kids, bake with your kids…
I have been blessed to have Freya as my mentor (she homeschooled first, and inspired me to start).  She was pretty relaxed, so I was able to keep the structure I needed (my tendency) without going overboard.  She balanced me.
Also, with homeschooling, your kids have a lot of free time.  Be sure to teach them to like to learn and how to learn.
9. As a homeschooling family, what is the one item you couldn't do without?
My children? =)
Also, the people around me.  The support of my group.  We get together regularly and we have different teaching styles, which is a real benefit to all of us.