This week, we're starting a new Inspiration Monday series, Homeschooling Methods, that explores some of the different homeschooling and educational philosophies that exist.  Since we've been playing around with some Montessori activities of late, I thought I'd start there. Enjoy!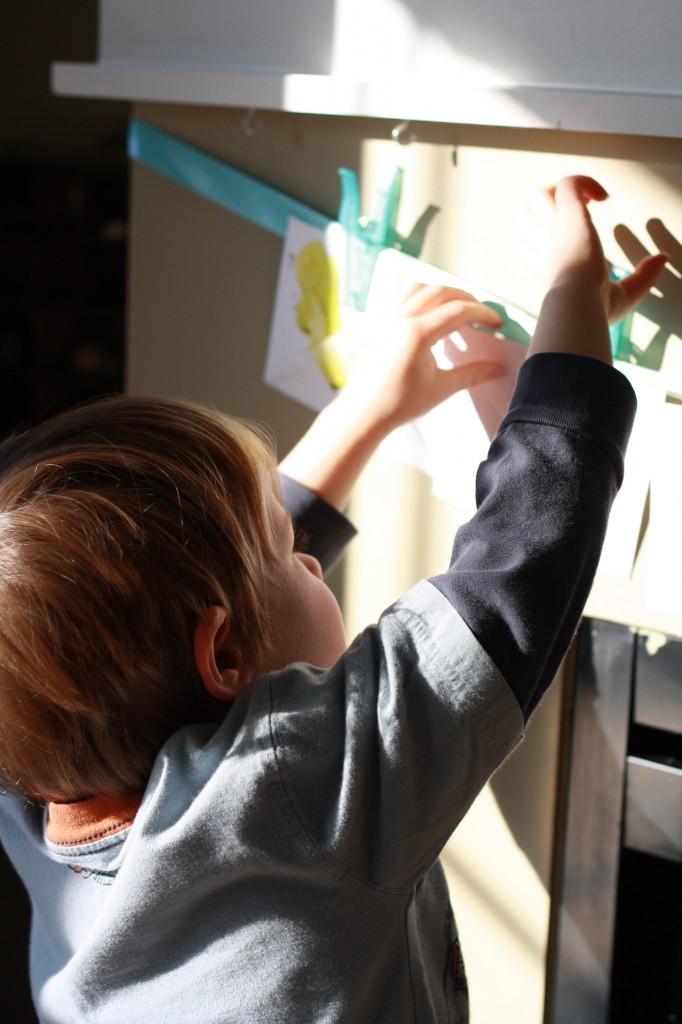 Montessori education is know for many things, including a focus on developing an independent child and providing multi-sensory activities.  Many Montessori activities are focused around helping a child do things independently, and choose activities that interest them.  They are also designed to develop specific skills, and appeal to a multitude of senses.
There is a lot to like about Montessori education.  I, personally, appreciate the care and thought that goes into each Montessori activity as well as the focus on creating and fostering a beautiful learning environment for children.  I also love how the Montessori Method stresses the importance of creating a child-friendly space, with child-sized items and accessible materials and toys.
In designing and creating a learning space for our children, I've been greatly inspired by the Montessori approach.  For example, we have low shelves, with enticing toys arranged at my children's eye-level.  And I've been trying to keep our toys neat and orderly, with an obvious place for every toy, so that our children will have an organized and peaceful play space.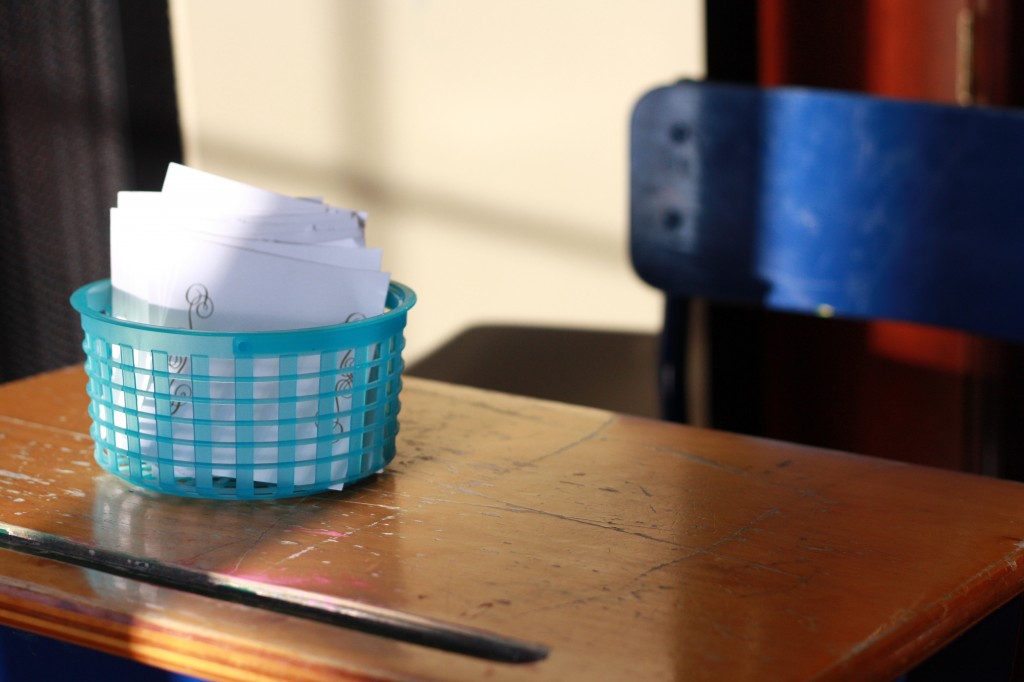 In choosing activities for my children, I often keep Montessori principles in mind.  For example, I like to think of ways for us to experience things with more than one sense.  Whether this be sandpaper letters, water play, or a nature table, I try to remember that children like to see – and hear – and feel – and taste – and smell things.  My son constantly reminds me of this, with his insatiable appetite for touching things.  He's 4 years old, and still feels the need to grab, pick up, and manipulate everything.  This is a trait that many people associate with babies, but I think's it's important to recognize the need in older children as well (specifically, my older child).
Here are a couple of recent "Montessori-esque" activities that we've tried out.
One day, we worked on fine motor skills and colours by sorting pom poms into their colour categories.  The kids really enjoyed this activity (they loved the tactile nature of the pom poms).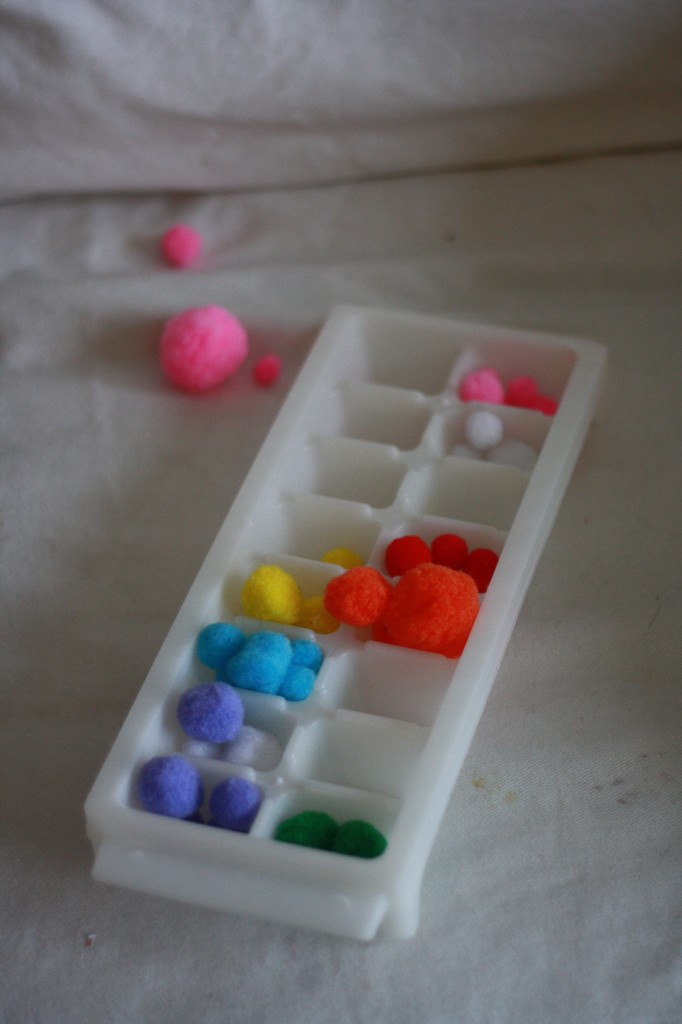 Another day, we worked on fine motor skills and numeracy by counting numbers and sorting them into bags (we gathered five "5's" and put them in a bag together, for example).  My son also "wrote" the numbers on bags.  Then he hung them on a ribbon strung across our fireplace using clothespins.  This activity took more concentration, and, although he liked it at first, he didn't enjoy it enough to see it through to the end (being a bag for each number).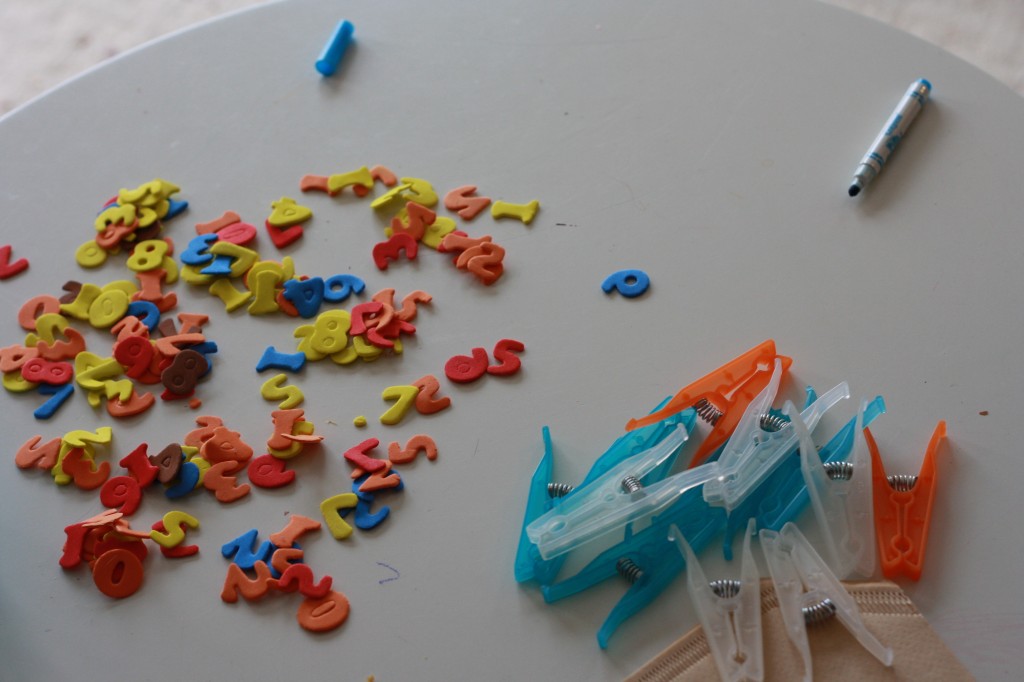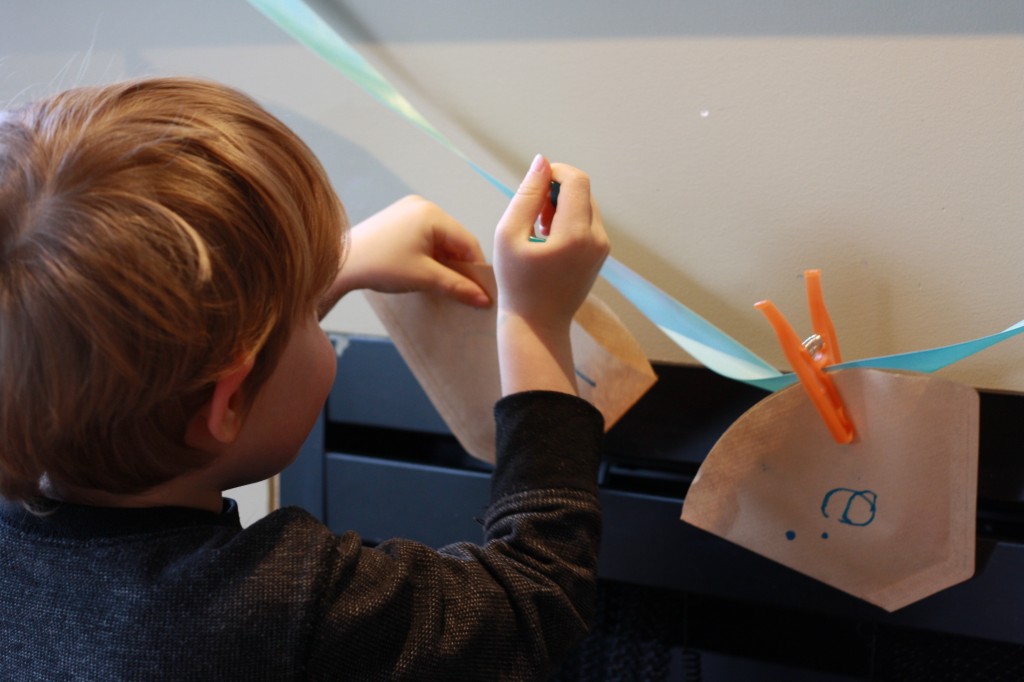 I often think educational philosophies are just as much about the parents as they are about the kids.  For myself, I never feel as though I could be organized enough to be a "true" Montessori mom.  I like to think on the fly, and innovate as I go, which I find difficult to do with pre-prepared Montessori activities.  Although, I carry many of the Montessori philosophies around in my head much of the time, and I know they manifest in what we do, and how we learn.
My son is a creative, curious soul, and is interested in trying most things, but he doesn't have a particularly organized mind and spirit.  So, he finds the details of some Montessori activities a little monotonous.  However, I often wonder if it would be "good for him" to have a bit more order in his life.  Hence, the organized play space to encourage this.  My daughter, however, while still just a toddler, is already showing signs of being much more orderly, and having a longer attention span for focused tasks than my son did at her age.  I can see how many Montessori activities would (and do) appeal to her.
So, I guess, for us, we dabble in Montessori.  I love a lot of the method, and I try to incorporate what works for us.  But, I wouldn't label us Montessori homeschoolers. I also see how it works very well for younger children, but need to learn more about how it applies to older children.  Any Montessori mothers out there care to shed some light?
I'd love to know how you've been inspired by Montessori education.  What do you love about it?  Is there anything you find difficult?  Does it work for you?
We're linking up with: