It's time for a little hands-on fun.  Last week, one of our members shared the idea of this glass jar terrarium with me.  It's such a fun and easy project, with so much learning potential.
I tried it with my son, and we had a great time selecting plants, digging, watering and arranging our little biosphere.  He now cares for it everyday, spritzing it with water (one of his all-time favourite activities) and watching the moisture condense.  In lieu of a pet, or a "pet egg" (anyone do that project as a kid?), houseplants and terrariums make a great "first care" project.  Not only that, but there is something immensely satisfying in arranging plants as living art on such a small, child-friendly and accessible scale.
Step by Step:
1. Gather your tools: a glass mason jar with lid, a shovel, a hammer and nail, some sand, soil & various mosses, plants and other bits and bobs (we used a small seedling from our garden, and a couple different types of moss, one snail and one clam shell).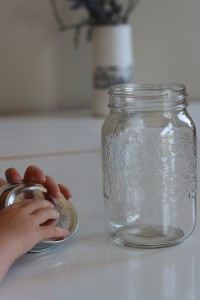 2. Fill the bottom of the jar with sandy soil and then add a layer of rich top soil.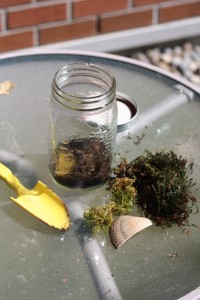 3. Plant your seedling (hint: ferns love the moist environment of a terrarium), and place selected moss around it.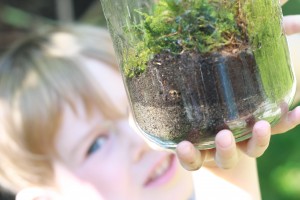 4. Finish with a couple of natural items if you wish.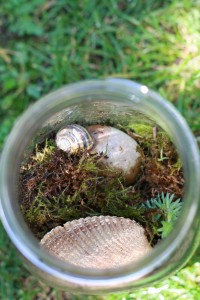 5. Finally, using a hammer and nail, poke a few holes in the top of the lid, and attach it.
6. Care for your tiny ecosystem by spritzing your terrarium whenever it starts to get dry.  Moisture will build up around the edges, like a rainforest, when it is happy.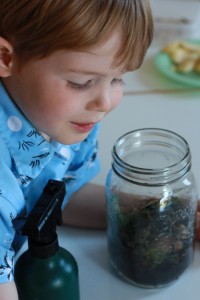 We rarely do formal learning (my son is still young), but I can think of at least twenty different applications for it in fields as varied as botany, art, photography, geology, and math.  We've already talked about condensation and weather patterns, earth worms and soil, different types of ferns, and snails in connection with ours.  In making it, he got to pick plants, dig, collect nature items, and hammer.  He smelled the soil and the plants and felt them with his hands.  And now, we get to enjoy caring for it every day!
How would you use a terrarium to facilitate learning? (Or maybe you'd just enjoy the experience of making it?)