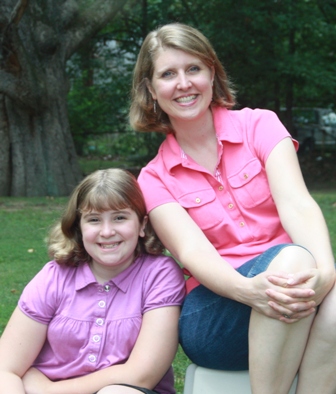 1. Tell us a bit about your family.
I have only one child, my 12 year old daughter "Sprite," so our family is just the three of us – me, Sprite, and my husband. Before I had Sprite, I was a public school teacher. I knew what homeschooling was and wasn't opposed to it, but as a working woman never considered that I would homeschool my own child.
2. Have you always known you wanted to homeschool?
Sprite was only eight weeks old when I took her to daycare and returned to work. I keenly felt the irony of dropping off my beloved infant to be cared for by others while I struggled to teach the children of my community. Why couldn't I be with my child, the one I loved more than any other child and who loved me instead of forcing reluctant eighth graders to write essays and read novels?   But for the most part I loved my job, and financial circumstances necessitated my working. (My husband was finishing up his college degree.)
A major transition in our life was the impetus for considering homeschooling. We moved abroad to China when Sprite was only three years old. I was thrilled to be a stay at home mom, finally! The city where we lived had a new international school, but it was expensive. I knew I could offer a better education for a much lower cost and get to spend time with my own child at the same time. The course for homeschooling was set.
Oddly enough my eight years of teaching experience and advanced degree didn't give me an assurance that I could teach a child to read. I nursed the suspicion that teaching a child to read was a mysteriously impossible task that only the specially trained could accomplish. Thankfully, Sprite was eager to learn and I was sensitive to her cues. She learned to read without a hitch.
Now we are back in America and Sprite is a seventh grader. Although public or private schools are a possibility, I think I've probably "ruined" Sprite from adjusting to that kind of stifling environment. And why should she? Our plan for now is to continue homeschooling through high school.
3. What is your favourite thing about homeschooling?
My favorite thing about homeschooling is the flexibility. Because of our flexible schedule, we were able to do a lot of traveling in Asia. My daughter has seen many famous world cities, learned a foreign language, and adapted to different cultures.  Now that we are back in America, we have the flexibility to invest time in grandparents and cousins whom we couldn't see for all those years.
Another huge component to the flexibility that homeschooling offers is the way we can focus on areas of Sprite's giftedness. Sprite is a highly creative, visual-spatial thinker who loves the arts. With homeschooling, we are free to indulge in art lessons and exposure to the fine arts by seeing plays and visiting museums. And all that time Sprite would be doing "homework," she can use for making new polymer clay creations or sketching zentangles while she listens to an audio book, of course. Lately my husband has been working a second shift job, and the flexible schedule of homeschooling has come to our rescue once again. We are free to mesh to my husband's schedule by staying up later and sleeping in. Our school days can stretch into the evening hours regardless of what a "normal" school schedule is.
4. Does you daughter ever ask to go to school?
Sprite never asks to go to public school. In fact, she hears stories from children at church and is disgusted at what she hears. She is realistic enough to see that the advantages of going to school would be overshadowed by a lack of freedom and a very competitive worldview. Plus, she doesn't want to get up so early for school!
5. Do you prescribe to a particular homeschooling philosophy?
I chose a loose version of the Charlotte Mason philosophy for our homeschool. Our learning is all living books based. We do not use textbooks and only selectively use workbooks. We take a high view of the fine arts – art, music, and drama. Our language arts curriculum is integrated into our other studies and is a hodge podge of resources. (You can read more about my approach to language arts in Designing Your Language Arts Curriculum.)
6. Do you use a particular curriculum?  Any recommendations?
There are so many excellent homeschool materials on the market that it can be overwhelming to decide.  My best advice is find something that suits your philosophy, buy it, and stick with it unless it is an utter nightmare. The vast majority of materials are high quality. The key is finding a good fit for your children and for you. That's why I say start with your philosophy. I am a Charlotte Mason educator, so I know that most any living books based curriculum is going to work well for us. And it has. We have used a wide variety but all literature based:  Sonlight, Winter Promise, Beautiful Feet, and (soon) Heritage History.
In the early years, I planned lots of hands-on activities plus lapbooking. Now that Sprite is in middle school, the hands-on activities have narrowed down to an emphasis on art. Of course, without trying a lot of different types of activities in those elementary years, we would not have discovered that art was her particular gifting and passion.
7. You've just released a new ebook on Notebooking! Could you tell us a bit about it, and tell us how you got into notebooking?
Over the years, the use of lapbooking naturally progressed into notebooking, our primary method of written narration. In fact, I have an entire website The Notebooking Fairy that is devoted to notebooking. There are free printables, how tos, and tips. I have also just released a brand new guide to notebooking, the eBook Notebooking Success. It is an affordable introduction to using notebooking for maximum benefit in a homeschool environment. The eBook explains how to use notebooking at all grade levels no matter what type of curriculum is used.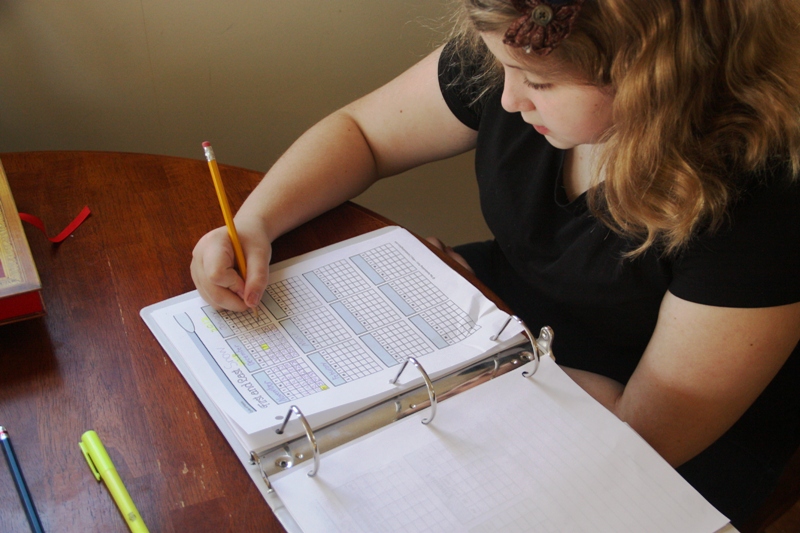 Thank you so much, Jimmie, for taking the time to share your experience and experiences with us.
—
Don't forget to enter our giveway for a free copy of Jimmie's new ebook, Notebooking Success.
—