I am extremely pleased to present our interview with Christina Pilkington of
Interest-Led Learning
. She is an inspiring homeschool mother and blogger, with a wonderfully open approach to learning and life. I hope you enjoy her interview as much as I have!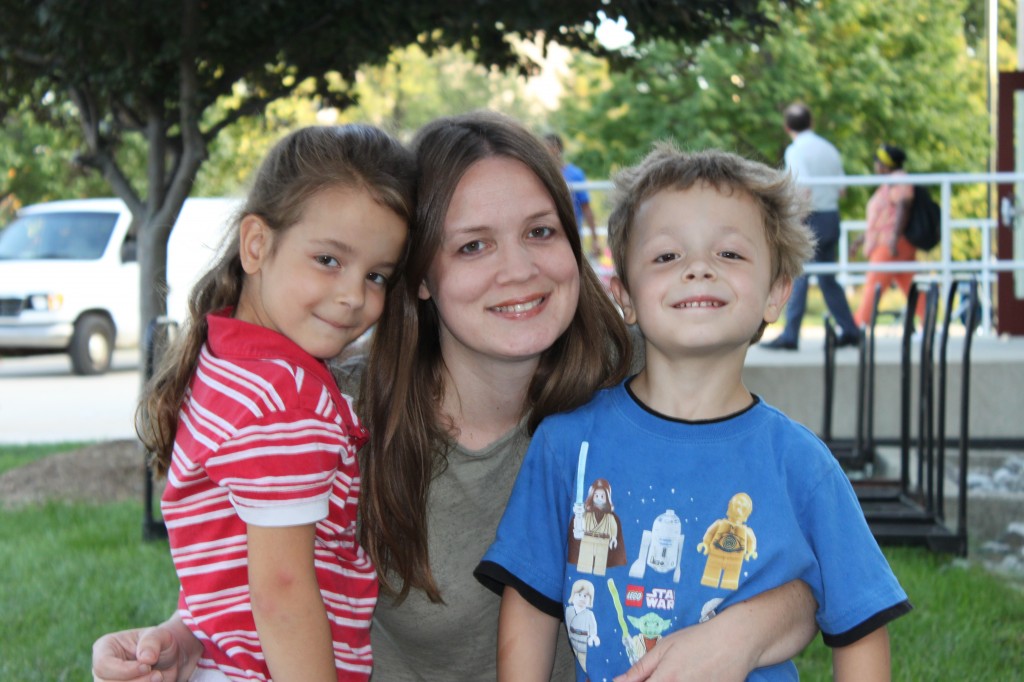 1. Tell us a bit about your family.
I'm Christina Pilkington, mom to 5 year old twins (turning 6 this spring) and wife to my wonderful husband, Steve. We live about a fifteen minute drive outside downtown Chicago.
Our learning philosophy is to embrace our interests and to live a life of passion, adventure and connections.
2. Have you always known you wanted to homeschool?
I knew I wanted my children to learn outside the school system during my last years as a public school teacher. Even though I tried my best to incorporate games and fun into my classroom, the kids still weren't engaged. I was frustrated and began seeking answers. Somehow I stumbled across the writings of John Holt and John Taylor Gatto. I incorporated some of their philosophy into my classroom and was amazed at what I saw. Kids who normally didn't like to read started reading long books – books that were connected to their interests. They also started to like writing when it didn't have a grade attached to it.
As my twins grew to toddlerhood and older, I saw how eager they were to learn all the time. At first, my husband was pretty much against the idea of keeping our children home from school, but as he saw them learning and growing, he was more and more convinced that a school setting wouldn't allow them to learn naturally. Now he'll tell you how he could never imagine them fitting into a traditional institutionalized school setting after they have known such freedom in their learning.
3. What is your favorite thing about homeschooling?
I love that we can learn those things that matter most to us right now. I know my children are still young, but I've never had to fight with them to learn or do any type of learning. They see their dad and I modeling real learning and questioning every day. They also have their own questions which we always answer. Travel, both near and far, is a high priority in our family, so the kids have been introduced to so many new ideas and topics that way, too.
One of my favorite things is that we can design our life the way we want to.
Schools dictate so much of a person's life, not just during school hours but evenings and weekends too. Travel is often limited. Family bonds are weakened when families have to spend so much time apart. I treasure the fact that I can spend so much time being with my kids. I can introduce so many new experiences and ideas to my kids because I have so much time to observe them and know them intimately.
4. The hardest thing?
Even though I treasure so much time with my kids, it can be hard sometimes to have so little time alone. I'm more of an introverted person and love long stretches of time to read and write by myself. I've had to learn to do those things in small chunks of time. When your kids are still young, like mine, they want and need to be around you a lot. And a lot of their learning takes place by just being around you and watching you. So, it's been important to experiment and work through ways to meet my needs of having some time to do things I love to do with their need of having me around most of the time.
5. Do your children ever ask to go to school?
It's funny because they often play school. My daughter will give my son "homework" to do. They hear the neighbor girls talking about school (in fact it was the neighbors who started the "playing school" game this summer) and all their cousins and other family members attend school.
Just a few weeks ago I asked them if they wanted to try first grade next year. My daughter said, "Would we have to write a lot during the day and sit still for most of the day?" When I said yes, she said, "No, thanks."
I'll always be open to them attending school. I don't want them to turn 18 and have regrets that they never experienced a school situation if that's what they wanted to do. I fully expect that they'll want to try school one day. They're curious kids, right? I don't think they'll last long there when they see how much it will limit their freedom in learning, but I could be wrong. I want to leave the choice up to them.
6. You consider yourselves "interest-led" learners. What does that mean to you?
It means that we focus our time and attention on those things that fascinate and interest us. This includes the entire family, not just the kids. It means that I actively introduce things to the kids I think are interesting. It also means that we expand upon our interests, go off on tangents and build connections between our interests.
I keep a notebook of those subjects, topics, and experiences that come up that catches our attention. We design our weeks around those things we've decided we want to learn more about or do. When children are little this type of exploration is so important. As they get older, I can see them becoming more project-oriented. I'll probably sit down with them and help them plan out projects or areas they'd like to learn in more depth, although even now we might spend months on topics that fascinate us.
For example, my daughter has been interested in the human body so for the past six months or so we've completed a Magic School Bus Human Body Kit, put together models of the human body, read lots of books about the human body and watched many DVDs on the same topic, too. We also went to a whale exhibit where we compared the whale skeleton and internal organs to those of humans.
I bring lots of resources and experiences into their lives based on things they express interest in. I also actively search for new topics, activities or ideas that I know my kids haven't been introduced to. Then I watch to see which things they gravitate towards and which things they are not interested in for now.
7. Are you influenced by any particular homeschooling philosophies?
I guess you could say unschooling, but really I'm most influenced by other families that learn outside the school system, especially those families that allow their children to focus their time and learning on those things that interest them.
8. Do you use a particular curriculum? Any recommendations?
We don't use any curriculum, but I am always on the look-out for great activities and resources from other home-learning families. I get great inspiration and ideas from the blogs I read and suggestions from friends I meet.
I'd recommend getting a lot of catalogs from a variety of different places and sitting down with your kids. Let them look through the pages and point out different resources they find interesting. If you feel you need some type of structure or goals, you could work with your children to decide what resources you'll explore each week. But I'd strongly suggest that you be highly flexible with that.
Always be open to interesting tangents and rabbit holes. Rabbit holes can lead to amazing places.
I'd also encourage you to take your kids to as many interesting places as you can, both far and near. When they are in new and different environments, they will learn so many important skills. They will also be introduced to new topics and skills and may want to explore those in greater depth later.
9. Have you changed anything you are doing, for the new year?
No. Every day is very different from the next.
10. What does a typical day look like at your house?
We have some routines. If we happen to be home whenever we decide to have lunch, I read to the kids, do experiments with them, watch YouTube videos or play games for about an hour or so. We are reading through the Magic Tree house series right now, so I'll usually have books, DVDs or games that are related to the topic of the book. If they want to read the book or do the activity, we do. If they're not excited about it, we usually pass onto the next thing. I'd have to say about 95% of the time they like the things I suggest. That's the advantage of being with your kids all the time – you get a really good idea of the things they'd like to do.
I'll share what we did on two separate days this week. As you can see, no two days are alike.
Day One – Swimming lessons, completing an animal poster where they match the animal sticker to the correct animal tracks, making animal tracks by painting on molds (This is from the Young Scientist Club Animal Tracks kit), making crystals, watching You Tube videos of mudslides and avalanches, watching Spiderman episodes, playing hide-and-seek, researching temperatures in different areas of the country, reading together some chapters of Mandie and the Secret Tunnel, lots of pretend play and creating things with Legos.
Day Two – Playing in the snow outside (Steve worked from home and pulled them in the sled around the block), going to a bounce house gym with friends for the morning, meeting with their grandparents and aunt for lunch, playing soccer in the gym, going sledding and taking a sled ride through the woods, making hot chocolate at home, playing a round of Ramses Returns (a Lego game), finishing reading the last two chapters in our Mandie book, watching the first half of Fellowship of the Ring.
11. What is your best homeschooling tip?
Always put your relationship with your kids ahead of any type of learning or academic expectations you have for them. If you do that, everything else will fall into place.
Watch your children closely and see what makes them full of joy. Give them lots of that. Place joy and happiness ahead of schedules and plans.
12. As a homeschooling family, what is the one item you couldn't do without?
The internet plays a pretty important part of our days. We also do lots of research and watch lots of DVDs. Of course, the library, games, activity books and lots and lots of new experiences are a close second.
13. Final thoughts?
Enjoy every moment you have with your children to the fullest.
Thank you so much for this amazing interview, Christina.  You have a beautiful learning perspective – one that is close to my heart.  I know I'll continue to read and re-read your interview when I need some inspiration.