Today's interview kicks off a series of interviews from homeschooling families with preschool-aged children.  Young families who have realized that what they do now is already homeschooling!  Member Nicole blogs about her family and their learning journey over at
Once a Small Seed
.  Enjoy her perspective as a trained Early Childhood Educator, turned homeschooling mama.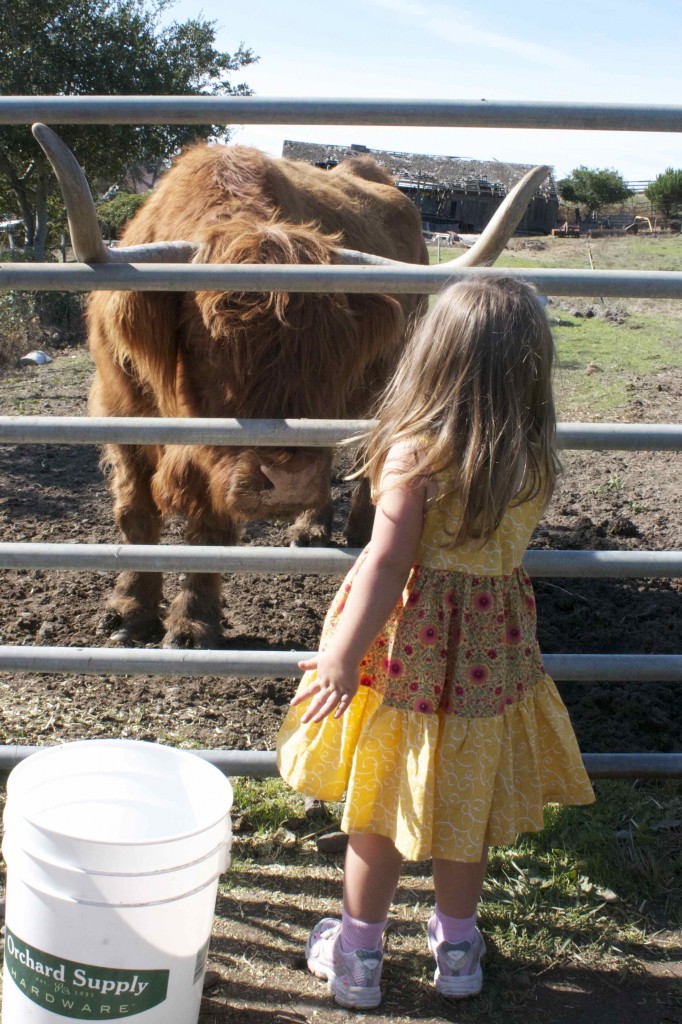 1. Tell us a bit about your family:
We are Rich, Nicole and Eleanor (4 years old).  My passions are children and spirituality. Rich loves to build.  Eleanor loves to dance, sing, cook and garden. She loves music and to make up her own songs.
2. Have you always known you wanted to homeschool?
I have always known I wanted to homeschool. It was the plan even before I was pregnant. I taught preschool for 17 years and did some tutoring in elementary schools. I remember taking an Early Childhood Education class in college. One group assignment was to describe a perfect school or learning situation. I basically described a child-led learning environment where there were no courses or curriculum.That children could learn so many different things including the "basics" by doing hands on projects that they were interested in. Hmmm… sounds like unschooling to me.
Of course, I didn't have all the ideas thought out at the time, so I had a hard time defending my ideas against those who believed in traditional schooling. I was out-numbered. My ideas were invalidated. This was one of my first ECE classes, so my ideas took a back seat for a long time while I went through college. I was taught how to "teach" not how children learn, but "how to teach". Then I was ready to "teach" what I was "taught". I did that for the first half of my career. The second half is where I really began understanding and observing what really takes place in school settings. The last 5-7 years teaching preschool really made me realize I did not want to put my child in a preschool or school system.
As I started reading more about homeschooling (authors like John Holt and John Gatto) my original ideas and things I had observed and learned by teaching in school were validated. Finally someone else who thinks like me. Yeah!
3. What is your favorite thing about homeschooling?
My favorite thing about homeschooling is that I get to raise my child and spend time with her. I am not missing anything. I love to watch her reach her milestones and accomplishments.
4. The hardest thing?
The hardest thing for me is finding balance. I have a hard time making time for myself, but I think every mom has this challenge whether they are homeschooling or not. I hope this will change as my child gets older.
 5. What do you do to prepare for "back to school"? Anything?
Since we are learning all the time, we don't have a "back to school".  We don't separate learning from the rest of our day. We don't have the start of school vs. summer. We are always learning and living, but every month or two I take some time to re-evaluate where my daughter is and what she is interested in. I then gather materials as I see appropriate. For example, if she has been showing interest in reading I will gather games and material I think she would like. Then when she shows interest during the day or she seems to want something to do I have things on hand.
At the same time I will gather art materials and seasonal things for us to do. Sometimes I might throw in a subject as well. She does like subjects presented to her, so I take advantage of this. Sometimes she is not interested in the subjects, but more often then not she can't get enough of what I am presenting.
6. Does your child ever ask to go to school?
My daughter hasn't asked to go to school, but she plays school, teacher and student. I am awaiting the day she does ask. We take dance classes and other fun classes. I call this school for her. Instead of saying we are going to dance class I might say we are going to dance school today (a hint given to me from another homeschool mom).
Recently she has been pretending to do homework. I don't know what I will do if she asks to go to school. I guess if she really wants to try it, we will try it. It's all about child-led learning right?
 7. You describe yourself as an unschooler. What does that mean to you?
Well, actually before I knew what unschooling was I was talking to an unschooling mom. She was the one that first told me I was an unschooler. That's when I really started to look into it.
To me unschooling is child-led learning. We follow the child's interest and let them have the freedom to explore and experience the world around them. That the child is provided with an enviroment rich with resources. That the child is provided with time for themselves and an enviroment safe to ask questions, and to have their ideas listen to and respected. I believe unschooling is more challenging for the parents. It requires a level of commitment not for the faint of heart, but is so rewarding and worth every effort.
8. Are you influenced by any other homeschooling or educational philosophies?
I am. I really like the way Montessori introduces reading and math, how they prepare an environment for learning and how they teach young children practical life skills. I also like the way Waldorf encourages imagination and creativity, and their use of natural materials.
9. Do you use a particular curriculum? Any recommendations?
I don't really use any curriuclum. The closes thing to a curriculum I use would be Montessori materials for reading and math, but I strongly believe that these subjects be child-led! I only present when she seems interested or asks questions. If she isn't interested in what I have, I immediately take it away. The book I have read is Basic Montessori by David Gettman.
I sometimes download some Montessori materials from the following sites:
Montessori Print Shop
Montessori for Everyone
I have been using Baking Bread with Children, by Warren Lee Cohen.  It is a Waldorf book filled with recipes, songs, and stories. Baking has become part of our routine. My daughter just loves it!
I also know I pull a lot of ideas from my experience teaching.  Another resource is of course the many wonderful blogs on the internet.
10. What does a typical day look like at your house?
We don't really have a typical day, but more like a typical week. Mondays we usually stay home and bake, cook, play or do projects. We are part of a co-op playgroup, so on Tuesdays mornings we participate in that. When we get home we usually have some quiet time.  Eleanor can choose what she wants to do ec…project, books, or going outside. Wednesday mornings we we do some chores around the house and again we let the morning play out. My daughter usually really likes to play imaginative games in the morning or act stories out. Then in the afternoon it's off to dance school. Thursdays Grammy comes to spend time with her. Fridays seem to be forming into our day for friends and field trips.  The weekends are Daddy time and Family time. Dad and daughter love to work in the garage together.
Now this is a frame work for our week, but it is very flexible. We may decide to go for a hike one day, or have friends over for some fun on any particular afternoon.  Sometimes we make it to our local unschooling park days.
11. What is your best homeschooling tip?
Hmmmm… Relax and enjoy it! That was the best tip I got, and the best I can give.
Especially when you are first starting out, all the information out there can seem overwhelming. There are so many opinions and philosophies that it is easy to feel like you have to do everything and everything just right. If you feel like you are not able to get everything done, maybe you are trying to do too much. The great thing about homeschooling and especially unschooling is it looks different for every family.
12. As a homeschooling family, what is the one item you couldn't do without?
Just one thing? Let's see. Besides my child's desire to learn and my husband's willingness to go out everyday and provide for us, I would have to say the homeshooling community. I find lots of encouragement and support from our homeschool friends, local unschooling groups and the online homeschool community. Sometimes it is hard to swim upstream, and knowing others like yourself make it a lot easier.
Heartfelt thanks, Nicole, for sharing your experiences, and for the peek into the window of your life!
We are linking up with Homeschool Creations for Preschool Corner
Enjoy!