Winter is the best time to curl up with a book, and share some of those precious moments.  The shorter days, and the longer nights just seem to encourage the coziness that comes with reading together.  So, here are a few of my favorites along those lines.  Cozy up, share the love, and enjoy!
For Parents
The Reading Promise by Alice Ozma 
I recently read this lovely ode to reading together.  If you've never heard of it, it's a delightful memoir of one girl's bedtime ritual with her father.  A promise that lasted for years, and was the foundation that held their relationship together for many years.  Read it, and you'll want to make a reading promise yourself.  Bonus: you'll get a whole heap of recommended titles to read!  It would also make a perfect gift for the teen in your life.
Read Me a Book by Barbara Reid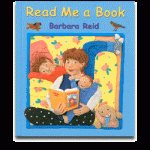 This one's a board book.  And, although it look like it's for babies – it's really  for mom and dad.  Sweet plasticine illustrations, and rhyming text reminds us that reading can occur anywhere – all the time.  And that a child is never too young to start this beautiful ritual.
—
For Young Children
Owl Moon by Jane Yolen
This is one of my all-time favourite cozy winter books.  The gentle, poetic language, coupled with the soft, muted illustrations just says "cuddle me."  The soft snowfall, and the bonding of father and child makes this book a special treasure that's sure to appeal to owl-lovers and adventurers alike.
The Mitten by Jan Brett
Another classic winter tale, this is the intricate and lyrical tale of a lost mitten, and the inhabitants that share it.  With detailed, ornate illustrations, this one keeps you coming back again and again.  It also makes a fabulous tale for oral storytelling.  Create a cast of felt creatures to go with it, and it makes the perfect gift package for a loved little one.
The Christmas Magic by Lauren Thompson
This beautiful, understated tale of St. Nicholas is well, magical.  It is, to date, my favourite Santa story.  The illustrations are simply beautiful, and, coupled with sparse text and a stark winter landscape it will have you seeing Santa like a favourite uncle or loving Grandfather.  If you would like a new picture book to add to your collection, this one should be it.  Truly special.
—
For Older Children
The Lion, The Witch & The Wardrobe by C.S. Lewis
What winter reading list would be complete without this tale of enduring winter?  If your children haven't read this book (and the accompanying series) yet, consider this your reminder.  The language is lovely, the characters memorable, 0h, and it's kind of a must-read in children's literature circles.  Plus, writing this reminds me that this is one of the few books on my list of quality re-reads.  So, if you've read it once, try it again, if not, dive into the land beyond the wardrobe.
The Phantom Tollbooth by Norton Juster
Okay, so I just added this one, because it was one of my favourites as a child, and it's a read-aloud classic.  If you haven't read this novel, it's a great one to read with a loved child.  The fantasy tale that follows Milo's adventures in the land of language and numbers, is full of delightful puns and deeper insights.  It reminds adults and kids alike to find pleasure in reading, in learning, and in the world.  Read this, and you surely won't succumb to the winter blues (unless you want to remain in the Doldrums!).
—
For Teens
A Child's Christmas in Wales by Dylan Thomas, Illustrated by Chris Raschka
There are so many beautiful editions of this tale, the latest that I've come across being illustrated by the delightful Chris Raschka.  Alluring, interpretive illustrations capture the heart of the sometimes funny, sometimes poignant tale of growing up, and sharing Christmas in Wales.  Written, of course, by Dylan Thomas, it's a classic that could intrigue children of any age, but might be particularly fascinating to a literary teen.
Stormy Night by Michele Lemieux
The esoteric tale of a young girl's bedtime thoughts on a stormy night.  A series of questions and thoughts, the book covers all myriads of childhood fears and questions about life, death and everything in between.  Everything from, "Will my name be in the encyclopedia?" to "But where does infinity end?  On the other side of the sky?" (my personal favourite), is illustrated in black and white sketches that capture the wildness of thought.  This is one original book, with that rare balance between words and illustrations that makes it a true work of art.  Very sophisticated, it would make a great gift for a thoughtful teen or older child.
Enjoy!  I'd love to hear about your favourite read-aloud, or cozy winter titles.